UA in Venedig: The Book of Water von Michel van der Aa
(September 2022)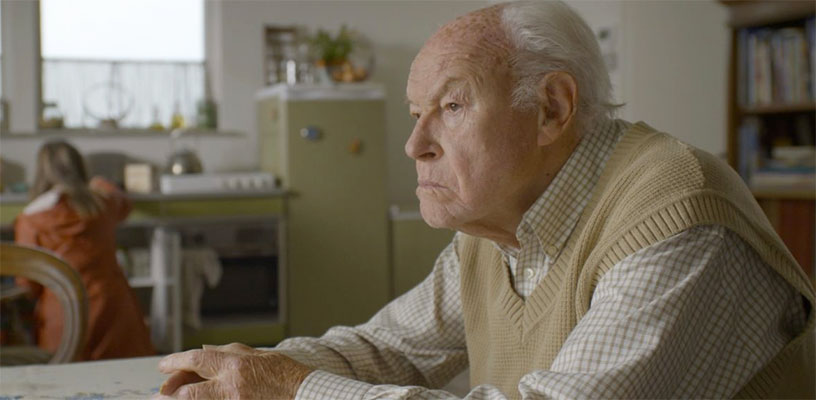 Michel van der Aas neuestes Musiktheaterwerk The Book of Water wird am 19. September im Teatro Goldoni in Venedig im Rahmen des Internationalen Festivals für zeitgenössische Musik der Biennale Venedig uraufgeführt.
Das Stück basiert auf Max Frischs Der Mensch erscheint im Holozän. Michel van der Aa hat die Erzählung zusammen mit der Dramaturgin Madelon Kooijman als Libretto bearbeit. Die Handlung dreht sich um Herrn Geiser, einen älteren Witwer, der allein in einem abgelegenen Bergdorf lebt und befürchtet, sein Gedächtnis zu verlieren. Starke Regenfälle haben Erdrutsche ausgelöst, und die Hügel vor Geisers Haus beginnen zu erodieren – eine Parallele zu seinem schwindenden Geisteskräften. Die Grenzen zwischen Außen und Innen verwischen sich, während Geiser immer verzweifelter versucht, einen letzten Moment der Klarheit über sich selbst, die Natur und die Zivilisation zu finden.
The Book of Water verbindet Bühnenaktion und Musik mit Film. In der Aufführung spielen live der Schauspieler Samuel West und ein Streichquartett aus Mitgliedern des Ensemble Modern sowie im Film der Schauspieler Timothy West und die Sopranistin Mary Bevan. Die voreingespielten Bestandteile werden auf mehrere Flächen rund um die Szene projiziert und erweitert so den Bühnenraum. Wie immer in Van der Aas Werk gibt es eine nahtlose Interaktion zwischen den Filmprojektionen und den Darstellern auf der Bühne.
Informationen und Eintrittskarten: labiennale.org
Vom 8. bis 18. November 2022 geht das Werk auf Tour durch Deutschland, Belgien und die Niederlande. Die deutsche Erstaufführung findet am 8. November in Frankfurt am Main statt, die niederländische am 11. November im Amsterdamer Muziekgebouw. Eine weitere Gastspielserie in Asien folgt im Frühjahr 2023. Siehe den immer aktuellen Aufführungskalender auf vanderaa.net.
Komponiert 2021–22, wurde The Book of Water von der Biennale Venedig, dem Ensemble Modern, dem Muziekgebouw aan 't IJ, der Amsterdam Sinfonietta, November Music und der Philharmonie Köln in Auftrag gegeben und realisizert mit Unterstützung von Ammodo, Prins Bernhard Cultuurfonds, Cultuurfonds Bank Nederlandse Gemeenten, Ernst von Siemens Musik Stiftung, Stichting Reinbert de Leeuw und Société Gavigniès. Produzentin ist die doubleAFoundation mit Unterstützung des Performing Arts Fund NL.
*
Vom 15. bis 17. September veranstaltet das Institut für Theaterwissenschaft an der Ruhr-Universität Bochum das interdisziplinäre Symposium "Musiktheater der Zeitgenossenschaft – Michel van der Aas Schaffen an den Schnittstellen der Künste". Ziel der Tagung ist es, die "an der Schnittstelle von dokumentarischem Musiktheater, Oper, Film und Videoinstallation sich bewegende Arbeit des Komponisten in Bezug auf ihre handwerklichen Aspekte und ästhetischen Strategien zu untersuchen, näher zu beschreiben und auf ihre gesellschaftliche, politische und diskursive Relevanz hin zu befragen". Konzept und Organisation: Prof. Dr. Stefan Drees (Hochschule für Musik Hanns Eisler Berlin), Dr. des. Elisabeth van Treeck (Ruhr-Universität Bochum) und Prof. Dr. Monika Woitas (Ruhr-Universität Bochum.
An drei Tagen werden Musikwissenschaftler*innen und Interpret*innen sich der jüngsten Musiktheaterwerke des Komponisten annehmen. Die Kenote gibt Jelena Novak, Lissabon. Zu den Themen im weiteren Verlauf gehören unter anderem "Es gibt keine Hardware. Mind Upload, oder: Sich den posthumanen Kopf zerbrechen", "Die Schwelle als Topos in Michel van der Aas Bühnenwerken", "Psychoanalytische Gesichtspunkte der Verdoppelung in One und Up-close" und "Totgesagte leben länger? Überlegungen zur Relevanz der Oper im 21. Jahrhundert". Darüber hinaus gibt es ein gemeinsames Viewing von One und Up-close sowie ein Live-Gespräch mit Michel van der Aa und der Sopranistin Julia Bullock, die per Zoom zugeschaltet werden.
Die Teilnahme ist für alle Interessierten kostenlos. Weitere Informationen:
van-der-Aa-Tagung-Programm-Flyer.pdf
 
> Further information on Performance: The Book of Water
> Further information on Work: The Book of Water
Photo: Szene aus dem Film mit Timothy West

Boosey & Hawkes Composer News