Unsuk Chin: Roche commission for Lucerne and Rattle
(September 2012)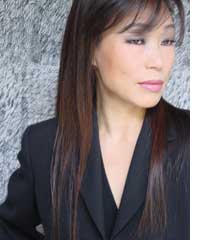 Unsuk Chin has been commissioned by Roche to compose a new work for the Lucerne Festival to be premiered by Simon Rattle.
The Roche company in Basel has announced a new commission for the South Korean-born and Berlin-resident composer Unsuk Chin, the seventh in a series of prestigious Roche commissions launched in 2003. She will write a new work for the Lucerne Festival Academy Orchestra, soprano soloist Barbara Hannigan and conductor Simon Rattle. The premiere will form a highlight of Chin's residency at the Lucerne Festival in 2014.

In future, the Lucerne Festival will be the exclusive partner of Roche Commissions. From 2003 to 2012, Roche Commissions had been run by Roche and the three cultural institutions Lucerne Festival, Carnegie Hall and the Cleveland Orchestra. As in the past, a new work will be premiered every two years at the Lucerne Festival. Under the renewed partnership Roche will be the Resident Sponsor of the Lucerne Festival in Summer and a Resident Partner of the Lucerne Festival Academy from 2013 onwards.

Franz Humer, Chairman of Roche: "We look back on many years of fruitful co-operation with the Lucerne Festival and are very pleased to have renewed this partnership for Roche Commissions and that we can continue developing it."

"It's marvellous," says Michael Haefliger, Director of the Lucerne Festival, "that in the world of business there are companies like Roche that are committed to promoting modern music and supporting the development of outstanding young talent. The innovative new collaboration between Roche and the Lucerne Festival Academy is a significant milestone in the history of our Festival."

Unsuk Chin is currently Composer-in-Residence at the Klanspuren Festival in the Austrian Tyrol (13-29 September). The programme includes the Austrian premieres of Gougalon - now in its final six movement form - and of her sheng concerto Su, and the composer's involvement with the International Ensemble Modern Academy.

Other Chin highlights this autumn include Esa-Pekka Salonen conducting the Violin Concerto with Viviane Hagner and the Philharmonia Orchestra at the Beethovenfest in Bonn on 3 October, the Norwegian premiere of the Cello Concerto by Alban Gerhardt on 18 October with the Oslo Philharmonic and Gullberg Jensen, and the Belgian and Brazilian premieres of the complete Gougalon.
Photo: Weonki Kim

Boosey & Hawkes Composer News