Unsuk Chin: US Premiere of Alice in Wonderland
(June 2012)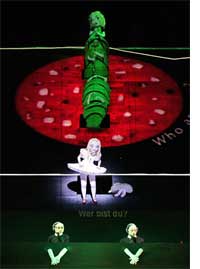 Opera Theatre of Saint Louis goes through the looking glass with first US performance of Chin's opera
In June 2012, the Opera Theatre of Saint Louis goes through the looking glass in presenting the US premiere of Unsuk Chin's fantasy-filled opera Alice in Wonderland. Led by OTSL Artistic Director James Robinson and conductor Michael Christie, these first American performances will offer audiences an engaging and rewarding exploration of Lewis Carroll's celebrated books and surreal landscapes and characters. The OSTL production, with six performances (June 13 through June 23), stars Ashley Emerson in the title role, Tracy Dahl as the Cheshire Cat, Aubrey Allicock as the Mad Hatter/Duck, and David Trudgen as the White Rabbit.

Unsuk Chin, who created the libretto with acclaimed playwright David Henry Hwang, discovered Carroll's Alice stories in South Korea as an adult, partly through references in scientific books exploring the parallels between minds and machines. She was immediately attracted to the multi-layering of the action and its attraction for "different groups of people – regardless of age, education, profession or nationality. It can captivate experts and laymen, children and adults as well. That is also an artistic ideal for me." She continues: "I was fascinated and wholly amazed because I recognized much of what I had seen in my own dreams. I wanted the dreamworld to be the reality in my opera…Alice is not solely a matter of dreams – it is also about a clash between the different ways in which we communicate and experience reality."

Chin's Alice in Wonderland was previously presented in Germany (Munich Opera, 2007) and Switzerland (Grand Théâtre de Genève, 2010), delighting audiences and critics alike. The Los Angeles Times called it a "wondrous new work" and it was hailed as a "new masterpiece" by Opera News. The New Yorker also praised the composer and work: "Chin's sound world is seductively cavernous, suggesting not only the magical rabbit hole down which Alice tumbles but also the psychological crevasses beneath the surface of Carroll's writing…the wondrous thing is how effortlessly Chin changes pace, from delicacy to grotesquerie, from cutesiness to dementia. Everything flows organically."

The final version of Chin's new large ensemble piece Gougalon was premiered earlier this year by the Ensemble Intercontemporain. The work receives its first performances in Belgium (by Ensemble Intercontemporain), the US (by the New York Philharmonic) and Austria (by Klangforum Wien) during the 2012-2013 season. The Los Angeles Philharmonic will also present a new work by Chin next season in Los Angeles and London. She was recently awarded the Ho-Am Prize, the most prestigious prize within the arts sector in her native country of South Korea.

> For further information on Unsuk Chin, click here.
> For further information on Alice in Wonderland, click here.
> To read an interview with Chin about her new opera, click here.
> To watch an excerpt from the Munich Opera production, click here. 
> For more information about the Opera Theatre of Saint Louis production, click here.

> Further information on Work: Alice in Wonderland
Photo credit: Bavarian State Opera/Wilfried Hösl

Boosey & Hawkes Composer News