Unsuk Chin: featured composer at Bergen International Festival
(April 2019)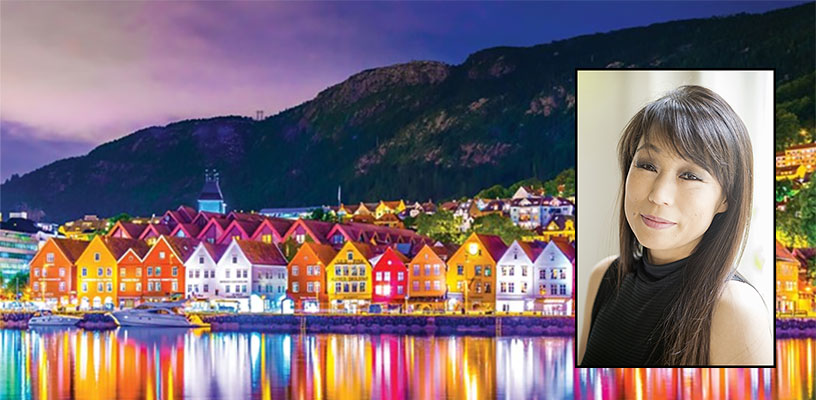 The music of Unsuk Chin is given a Nordic focus at the 2019 Bergen International Festival in May and June with four concerts featuring her music including the Norwegian premiere of Gougalon.
The 2019 Bergen International Festival presents six works by the South Korean-born, Berlin-resident composer Unsuk Chin within a major feature on her music (31 May - 5 June). This is her largest Norwegian feature to date, building upon events in Oslo and Stavanger. Repertoire ranges from chamber pieces through ensemble works to culminate in her Piano Concerto with soloist Sunwook Kim, the Bergen Philharmonic Orchestra and conductor Edward Gardner.
The concert by BIT20 conducted by Pierre-André Valade on 31 May brings the Norwegian premieres of two major ensemble works by Chin: cosmigimmicks for the piquant combination of trumpet, percussion, harp, guitar, mandoin, prepared piano and violin, in a choreographed version by the Carte Blanche dance group, together with Gougalon, Chin's 'Scenes from a Street Theater', that has travelled widely around the world over the past decade with over 70 performances since its premiere in 2009.
The focus turns to chamber music on 3 June with the Oslo String Quartet in ParaMetaString, and on 4 June the violin and electronics work Double Bind featuring Peter Herresthal is coupled with the composer's earliest success, Acrostic-Wordplay, dating from 1991. The performance of this setting of nonsense texts for soprano and chamber ensemble features Sara Kerschkowitz and the Arctic Philharmonic Sinfonietta conducted by Tim Weiss.
The Chin feature is completed in the festival's closing concert on 5 June, with a performance of her playful Piano Concerto, dating from 1997. Soloist is Sunwook Kim who has played the work in recent years in Stockholm, Hamburg, Stavanger, Paris, Cologne and recorded the concerto with the Seoul Philharmonic for Deutsche Grammophon. Edward Gardner, the Bergen Philharmonic's principal conductor is on the rostrum for the concert at the Grieghallen.
Unsuk Chin's newest score, SPIRA, a concerto for orchestra, was premiered on 5 April at Walt Disney Hall with the Los Angeles Philharmonic under Mirga Gražinyte-Tyla. Other commissioners with planned future performances include the NDR Elbphilharmonie Orchestra, Orchestre de Paris, City of Birmingham Symphony Orchestra and Royal Stockholm Philharmonic Orchestra.
> Further information on Work: Gougalon
Chin photo: Priska Ketterer

Boosey & Hawkes Composer News