Unsuk Chin: interview about Cello and Sheng Concertos
(June 2009)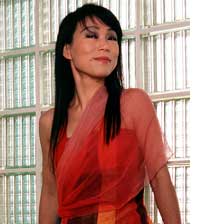 Unsuk Chin discusses her new Cello Concerto for the BBC Proms and her sheng concerto, Šu, with first performances in Tokyo and Los Angeles.

How do you explore the relationship between soloist and orchestra in your new concertos?

The Cello Concerto is antithetical to my other concertos. While in the concertos for violin and piano, in the Double Concerto, and in my new sheng concerto I was seeking to merge the solo instrument and the orchestra into a single virtuoso super-instrument, here it's all about the competitive tension between the soloist and the orchestra. The 'aura' of the cello was the initial nucleus and forms the basis of the music, so the whole structure of the piece is thus 'carried' by the cello. However, the orchestra responds to it in an antagonistic way. This antagonism is much stronger than in traditional Classical-Romantic concertos; one could even speak of a 'psychological warfare' between soloist and orchestra. The handling of the orchestral instruments is varied, ranging from individual virtuosity to different fleeting formations and collective acts.
You've described the role of the cello soloist as akin to an illusionist. Does this relate to your love of smoke and mirrors?
In my cello writing, I often ask the soloist to disguise the nature of the instrument so the perception can be blurred. I try to explore the boundaries of the cello's expressivity and to broaden the definition of 'expression'. Therefore I also use special playing techniques and call for unusual timbres, including noises and rasping sounds. For me, this actually serves the expressivity by suggesting new meanings. The unique artistry of Alban Gerhardt inspired me immensely. Not only his solo part but also the orchestral parts are often characterized by extreme virtuosity, by the idea of the instrumentalists being pushed to the edge.
Between the violin and cello concerti you composed your first opera, Alice in Wonderland. Has your work with singers fed into the melodic and emotional capacity of your writing for instrumental soloists?
Alice in Wonderland is – due to its subject (and the operatic genre) – worlds apart from my other music, but I have written vocal works with affection since the beginning of my career. For me, part of the fascination in vocal writing lies in the possible morphing of the vocal soloists into instrumentalists. Obviously there are parallels between the intrinsic character of the cello and vocal music, and the cello is less abstract an instrument than piano or violin. I see no sense in denying the nature of the instrument, in denying the very emotion which this instrument evokes in the composer/listener. In any case, when I write a new piece I fully explore its associated genre, its background, its possibilities, its limits …
Your new sheng concerto, Šu, is written for a wind instrument that can readily play both melody and chords. Has this influenced your approach?
I've been fascinated by the sheng for many decades. The sheng is used in Korean music but it is not exploited in terms of solo playing. I was therefore all the more fascinated when I heard Wu Wei for the first time in Berlin, as he introduced me to the great virtuosic possibilities and multi-faceted nature of this instrument. Besides this, I have seldom been so intrigued by a musician's imagination and skills. Wu Wei is active in the fields of free improvisation, traditional Chinese music, as an interpreter of European classical music and most importantly, of contemporary music, with more than 100 premieres.
Unlike its Korean and Japanese counterparts, the Chinese sheng – which is more than 4000 years old – has been developed (also thanks to Wu Wei) into a modernised and highly versatile instrument. Because of the key mechanisms it has the potential for chromaticism, microtones, chords, polyphony, clusters… At times, it can sound like electroacoustic music and the instrument is capable of the eeriest of sounds and of explosive power. Despite the extreme possibilities, I think you have to be careful to preserve the very nature of the sheng, not to destroy the essence of the instrument.
You've largely avoided integrating Eastern instruments within your Western contemporary idiom. Why and how did your view change on this?
I'm very interested in using non-European instruments in a 'Western' context. However, I feel a great deal of respect for the achievements of non-European musical cultures, so I've been wary of mixing things together which have completely different heritage lines. After all, you can't decide on one day to take a few Eastern and Western instruments by random and write interesting music. To find out what synthesis is possible, one needs good reasons – and time, so that the development is organic, or the result will be cheap.
For me, the idea to write a sheng concerto was not to pursue a mixture of 'East' and 'West'. I always simply try to compose my own music, because I believe every new piece has to have an individual voice in the midst of all these bewilderingly different possibilities. In order to develop as a musician, it's necessary to face different kinds of music, whether from non-European or even popular music cultures. But that doesn't change the fact that I am a composer grown within a culture of contemporary classical music.
Your residency with the Seoul Philharmonic since 2006 has taken you back to your native city. How do you see contemporary music in Korea developing?
It is a paradoxical situation. On one hand, musical education is nowadays extremely prestigious in South Korea and there are many world-class musicians. However, musical life (especially the sector of contemporary composition) is still lacking an infrastructure. So, the general musical knowledge is limited to certain areas and epochs of repertoire and to the worship of a few 'stars'.
With the Seoul Philharmonic Orchestra there is a chance to do pioneering work. Since Myung-Whun Chung became chief conductor, the orchestra has been completely modernised. Now we have a group of innovative and hard-working musicians coming not only from Korea, but from Europe, Asia and the States. Next year the orchestra is going on its first European tour.
My function in Seoul is mainly to programme a contemporary music series and to give lectures, workshops and masterclasses. The need for education and information (and also the thirst for it) is enormous. For instance, we have just done the Korean premieres of Webern's op.10 and many pieces by Messiaen, not to mention later 20th century classics. In total, we have programmed in the last three years 60 Korean and 30 Asian premieres.
Recently, on the occasion of a thematic focus on American mavericks, I gave a lecture about Harry Partch and Conlon Nancarrow, and in this context I was thinking that the peculiar situation in Korea can be a fruitful opportunity: because of the lack of traditions, there is the chance to create something new. The people are not snobbish; they don't adhere to any dogma. They do understand that in different countries and in different styles music of quality can be composed. Thus, the composers we choose often belong to very different 'camps'. Alongside classical modernism we present contemporary pieces - also by young, lesser-known composers – and commissioned works.

The only thing which is a pity is that the classical music audience in Seoul usually knows little about other kinds of music. They are very much conditioned into the Classical-Romantic tradition, and although they are very interested in other things as well, it naturally takes time to introduce them to new modes of listening. It is somewhat ironic that if they knew more about traditional Korean music (which is difficult since a living, unbroken tradition doesn't really exist), they could be even more receptive to contemporary music.
Interviewed by David Allenby
Cello Concerto (2006-09) 30'
commissioned by the BBC
13 August 2009 (world premiere)
Royal Albert Hall, BBC Proms, London
Alban Gerhardt/BBC Scottish Symphony Orchestra/Ilan Volkov
> www.bbc.co.uk/proms
Šu (2009) 20'
for Chinese sheng and orchestra
commissioned by Suntory Hall International Programme, ZaterdagMatinée, Los Angeles Philharmonic, Essen Philharmonie
28 August 2009 (world premiere)
Suntory Summer Music, Tokyo
Wu Wei/Tokyo Symphony/Kazuyoshi Akiyama
> www.suntory.com/culture-sports/suntoryhall
9 October 2009 (US premiere)
Walt Disney Concert Hall, Los Angeles
Wu Wei/Los Angeles Philharmonic/Gustavo Dudamel
> www.laphil.com/tickets
> Further information on Work: Cello Concerto
Photo: Eric Richmond/ArenaPAL

Boosey & Hawkes Composer News