Unsuk Chin: orchestral Mannequin premiered on UK tour
(June 2015)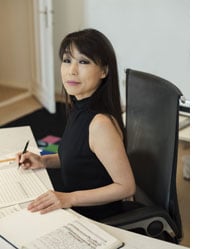 The new orchestral work Mannequin by Unsuk Chin combines choreographic gestures with a surrealist story by E. T. A. Hoffmann.
Unsuk Chin's newest work is Mannequin, a collection of 'tableaux vivants' forming an orchestral choreography inspired by a surrealist short story by E. T. A. Hoffmann. Following performances by the National Youth Orchestra of Great Britain and Ilan Volkov on a UK tour including the Southbank Centre in London, the 25-minute work travels to the Boston Symphony, Danish National Symphony and Melbourne Symphony Orchestras.

The composer described her approach to the surrealism in Hoffmann's tale in an interview with Classical Music magazine: "Hoffmann's style is febrile, elliptic and obscure, but precisely this makes it interesting: it directly reaches the nervous system and the spine. I try to create the feeling of weightlessness by means of breakneck virtuosity, unusual sonorities and musical mirages. It's highly gestical music, an imaginary choreography which is intended to be danced. To paraphrase Vladimir Nabokov, it's trying to perceive the mysteries of the irrational through rationally organized sounds."

"…Chin's glittering, rattling, whirring sequence based on ETA Hoffmann's The Sandman, a story of seductive automata, stolen eyes and broken hearts… From the first icy touch of the celesta to the speakeasy muted trumpets and the last oily gurgle of the contrabassoon, the story grips… Chin is a gourmet, using vast resources with delicacy and discipline"
The Times

Simon Rattle conducts the German premiere of Le Silence des Sirènes with the Berlin Philharmonic and soprano Barbara Hannigan on 24 June, and the Swedish premiere follows with the Gothenburg Symphony on 30 September. Recent features on Chin's music have included a three-concert focus by the Stavanger Symphony Orchestra in March. The Festival d'Automne in Paris presents a series of five concerts with six French premieres in October/November and the BBC Scottish Symphony Orchestra explores Chin's concertos throughout the 2015/16 season.
> Further information on Work: Mannequin
Photo: Priska Ketterer

Boosey & Hawkes Composer News