Unsuk Chin: reviews of new Cello Concerto at BBC Proms
(October 2009)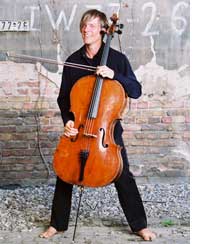 "The greatest compliment you can pay a new work is the desire to hear it again, as with Unsuk Chin's Cello Concerto". So wrote The Times enthusiastically reviewing her new concerto for Alban Gerhardt, commissioned by the BBC Proms and premiered to acclaim in London on 13 August. The work follows a Piano Concerto and the Grawemeyer Award-winning Violin Concerto, and the critical consensus was that the new concerto marked further developments in her orchestral palette, formal ingenuity and melodic generosity.

"The South Korean composer's idiom is, above all, lyrical, but it is lyricism speckled with prickling intrigue, long shadows and haunting luminosity. Most of all, this concerto is a majestic framework for its dauntingly intimate solo part. Picking out a cello's baritonal voice from the orchestral fabric is always a headache (even Dvorák had doubts before embarking on his concerto), but Chin triumphantly enhances the instrument's most chamber-like qualities, even when driving her soloist into flights of daring virtuosity." The Times

"The Concerto is surely destined for the repertoire."
Sunday Times

 "…originality, aural beauty and expressive depth… Everything grows from the theme assembled around a single pitch in the opening bars, and the first movement alternates discursive ruminations for the cello with chiselled commentary from the orchestra, until everything boils up into a fierce cadenza. Alban Gerhardt made its difficulties and teeming luminous detail seem the most naturally expressive things in the world… It's a major addition to the concerto repertory." The Guardian

"The heart of Unsuk Chin's superlative new Cello Concerto is in its elegiac third movement and its glassy chorale. Playing from memory, Gerhardt delivered a controlled and haunting tone, suggesting he has already made this piece his own. Yet the Berlin-based Korean composer has written a concerto many will want to play, one worthy of standing alongside Dutilleux's concerto in the post-Shostakovich cello repertory."
Sunday Telegraph

A further new Chin concerto for Chinese sheng and orchestra, entitled Su, was premiered by Wu Wei in Tokyo on 28 August, the culmination of a focus at the Suntory Summer Festival. Svu travels to Los Angeles on 9 October where it is programmed within the inaugural events for Gustavo Dudamel's tenure as Music Director of the Los Angeles Philharmonic. The Dutch and German premieres are scheduled for 13 March and 4 June 2010.

Chin's new work for Ensemble Modern, gougalon, is premiered in Berlin on 9 October conducted by Johannes Kalitzke, with a further performance on 9 April as part of an extensive survey of Chin's works at the Essen Philharmonie during the 2009/10 season. In addition to her Essen residency Chin continues her Composer-in-Residence role with the Seoul Philharmonic Orchestra.
> Further information on Work: Cello Concerto
Photo: Alban Gerhardt

Boosey & Hawkes Composer News