Unsuk Chin's Sirens revealed at Lucerne Festival
(October 2014)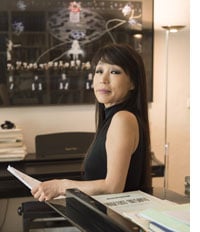 Simon Rattle conducted the premiere of Unsuk Chin's new work for soprano and orchestra, with Barbara Hannigan summoning up the seductive call of the sirens at the Lucerne Festival.
Unsuk Chin's new work commissioned by Roche, Le Silence des Sirènes, was premiered by the Lucerne Festival Academy Orchestra under the baton of Simon Rattle in August with a starring role for soprano Barbara Hannigan. It provided the highlight of the composer's Lucerne Festival residency and will receive further performances from Rattle and the Berliner Philharmoniker next June.

Deutschlandradio Kultur described how the new scena "earnt near-unending applause for Unsuk Chin. This successful game with words and music based on texts by Homer and James Joyce developed its own special charm through a constantly changing dialogue of motives that ultimately succeeds in silencing the siren… a work whose appeal and fascination is experienced by the attentive listener right from the start."

"… a dazzling reflection on Homer's formidable femmes fatales…"
Financial Times

The 16-minute score can be viewed as a psychological monodrama which, like many of Chin's works, explores the point where conceptual meaning and dreamlike associations intermingle. The assembled text combines passages from the twelfth chapter of Homer's Odyssey which describes the singing of the Sirens who lure sailors to their ruin, and the beginning of the eleventh chapter of Ulysses which Joyce particularly associated with the Sirens, personified as Irish barmaids luring men to drink.

"Chin's new work is visceral, fast-paced and thrilling. It is written with arch-siren Barbara Hannigan in mind, and she could easily wreck a fleet of ships if she so desired. She floats to the stage chanting Homer's text. This becomes James Joyce's fragmented verbal fugue, sparkling like points of light on water. Hannigan's theatrical energy, her effortless heights and unearthly precision all become part of a seductive whole; and then there is a sense of childlike joy and wonder in Chin's sonic explorations. Le Silence des Sirènes is a great piece."
Financial Times

Last month brought the US premiere of Chin's recent Clarinet Concerto with the New York Philharmonic and Kari Kriikku as soloist. Highlights of the coming season include a new multimedia presentation of her opera Alice in Wonderland in Los Angeles (27 February) and the Barbican in London (8 March), and the premiere of a new orchestral work Mannequin at the Southbank Centre in London (11 April).
> Further information on Work: Le Silence des Sirènes
Photo: Priska Ketterer

Boosey & Hawkes Composer News