Uraufführung von John Adams' Antony and Cleopatra
(August 2022)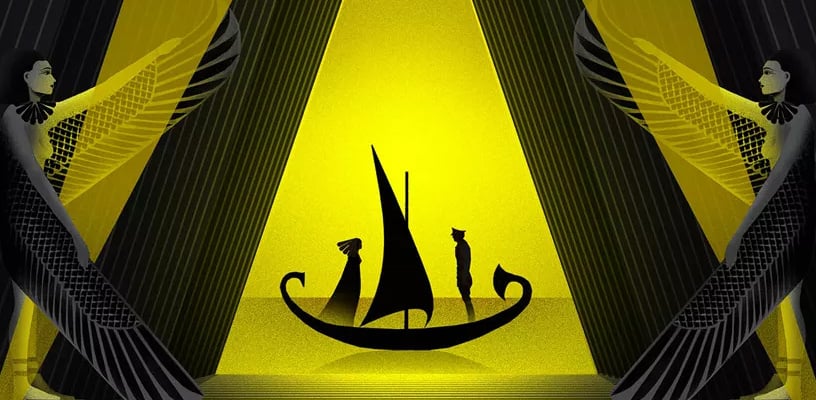 Die neue Oper des US-amerikanischen Großmeisters kommt am 10. September an der San Francisco Opera zur Uraufführung. Es handelt sich um eine Koproduktion des Hauses mit dem Gran Teatre del Liceu Barcelona und der Metropolitan Opera New York. Das Werk läuft am 18.9. auch im Livestream.
Bis 5. Oktober 2022 wird John Adams' Antony and Cleopatra in San Francisco zu sehen sein. Die Produktion eröffnet die Saison 2022/23, in der das Haus sein 100-jähriges Bestehen feiert. Adams' neue Oper ist ein Gemeinschaftsauftrag der San Francisco Opera, de Gran Teatre del Liceu Barcelona und der Metropolitan Opera New York.
Das englischsprachige Libretto kompilierte der Komponist selbst aus Shakespeares gleichnamiger Tragödie, Passagen von Plutarch, Vergil und anderen klassischen Texten. Regisseurin Elkhanah Pulitzer und ihr Team, zum dem die Dramaturgin Lucia Scheckner, die mit einem Tony Award ausgezeichnete Bühnenbildnerin Mimi Lien, die Kostümbildnerin Constance Hoffman, der Lichtdesigner David Finn, der Projektionsdesigner Bill Morrison und der Sounddesigner Mark Grey gehören, vermischen die mythischen Bilder der Antike mit dem Hollywood-Glamour der 1930-er Jahre.
Antony and Cleopatra ist ein neues Kapitel in Adams' langjähriger Zusammenarbeit mit der San Francisco Opera. Doctor Atomic (2005) und Girls of the Golden West (2017) entstanden als Auftragswerke des Hauses und wurden im War Memorial Opera House uraufgeführt. The Death of Klinghoffer, ein Co-Auftrag, und Nixon in China waren 1992 bzw. 2012 dort zu erelben.
Adams erklärt: "Ich bin stolz darauf, meine langjährige Zusammenarbeit mit der großartigen San Francisco Opera mit diesem vierten Opernauftrag fortzusetzen. Antony and Cleopatra ist eine Geschichte, die nicht nur das zwischenmenschliche Drama, sondern auch Geopolitik und den Zusammenprall der Kulturen umfasst. Wie immer bei Shakespeare spiegeln seine Themen die Realität des Lebens wider, so wie wir sie in der Gegenwart erleben."
Geleitet von der Chefdirigentin der San Francisco Opera, Eun Sun Kim, verspricht die Uraufführung eine mitreißende Reise ins Legendenhafte, mit den treibenden Rhythmen, den reichen Farben und der erzählerischen Kraft, die Adams' Opern, sinfonischen Werke, seine Solokonzerte und Kammermusik seit mehr als vier Jahrzehnten auszeichnen.
Die in Ägypten geborene, neuseeländische Sopranistin Amina Edris wird die Rolle der Cleopatra verkörpern. Sie ersetzt Julia Bullock, die sich von der Produktion zurückgezogen hat, da sie und ihr Mann, der Dirigent Christian Reif, in diesem Herbst die Geburt ihres ersten Kindes erwarten. Bullock wird die Rolle zwar nicht in San Francisco verkörpern, bleibt dem Werk aber für zukünftige Produktionen verbunden. Gerald Finley, der für seine Rolle des J. Robert Oppenheimer in Adams' Doctor Atomic gefeiert wurde, bringt seinen "eleganten Bariton" (New York Times) in die Rolle des römischen Generals und Triumvirs Antonius ein, und der Tenor Paul Appleby, der schon den Joe Cannon in Girls of the Golden West verkörperte, ist der junge Kaiser Octavius, um nur einige Namen aus der Besetzung herauszugreifen.
> zur Website der San Francisco Opera
Antony and Cleopatra ist auch im Livestream zu erleben, und zwar am Sonntag, dem 18. September ab 23 Uhr deutscher Zeit. Das Video wird für 48 Stunden nach der Live-Sendung on demand online abrufbar sein.
Informationen zum Livestream: www.sfopera.com/digital/Livestream/
 
> Further information on Performance: Antony and Cleopatra
> Further information on Work: Antony and Cleopatra
Abb.: Promo-Motiv der San Francisco Opera

Boosey & Hawkes Composer News