Vivier features from Paris to Amsterdam
(September 2019)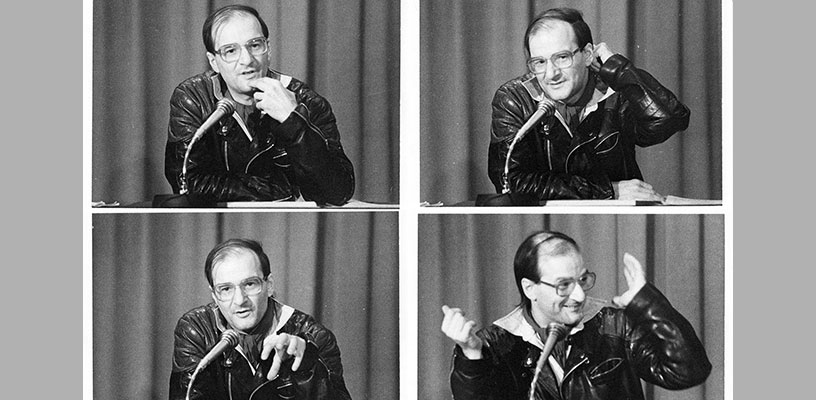 Claude Vivier highlights this season include a feature at the Festival d'Automne in Paris and a series by the Asko|Schönberg ensemble in Amsterdam, Utrecht and Arnhem.
This season brings Claude Vivier's music to major European cities including Paris and Amsterdam. Following the success of last year's Festival d'Automne Vivier feature, a second series of Paris concerts has been planned for 2019, launched this month with the French premiere of Hiérophanie on 19 September. This 40-minute music theatre work received a spatial staging at the Philharmonie from Silvia Costa, with soprano Marion Tassou and the Ensemble Intercontemporain conducted by Matthias Pintscher. The same forces travel to the Pierre Boulez Saal in Berlin for a second performance on 22 September.
Further events at the Festival d'Automne include chamber works with Trio Catch and a programme combining Journal performed by Les Cris de Paris, Shiraz for piano and a screening of the opera Kopernikus, staged by Peter Sellers and filmed at last year's festival. Journal was composed in 1977 following Vivier's journeys to the Orient, but as the composer notes, rather than being a travel diary, the 45-minute work for choir, soloists and percussionist records the "attracting forces of my childhood (or maybe better, the one I always wanted to have!)", passing through four phases: Childhood, Love, Death and After Death.
The other-worldly and visionary nature of Vivier's music makes it ideal for imaginative theatrical presentation, and a new combination is offered at Potsdam Winter Opera in November. Frederic Wake-Walker stages Lonely Child in tandem with Schubert's oratorio fragments Lazarus with Kammerakademie forces conducted by Trevor Pinnock.
The Asko|Schönberg ensemble, which has enjoyed a long association with Vivier's music spearheaded by conductor Reinbert de Leeuw, presents a series of concerts from February in Amsterdam, Utrecht and Arnhem. Highlights include a ZaterdagMatinee programme at the Concertgebouw with Wo bist du Licht! and Lonely Child with and a concert at the Muziekgebouw built around the urba colours of Vivier's last completed work Et je reverrai cette ville étrange.
> Further information on Work: Hiérophanie
Photos: Courtesy Fondation Vivier

Boosey & Hawkes Composer News