World Premiere of Inaugural New Voices Work
(April 2013)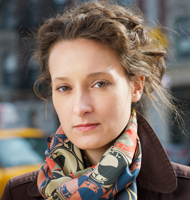 Zosha Di Castri's Lineage to be premiered by MTT and the New World Symphony in Miami
The world premiere of Zosha Di Castri's new orchestral work Lineage will be take place Saturday, April 20 at the New World Center in Miami Beach, Florida. Performed by the New World Symphony under the baton of Michael Tilson Thomas, Lineage is the product of a two-work commission for the inaugural New Voices project, launched in 2012 by the New World Symphony, San Francisco Symphony, and Boosey & Hawkes. Di Castri's percussion quartet Manif (part of the New Voices commission) was premiered in March by members of the New World Symphony.

> Click here to learn more about the New Voices project and composer Zosha Di Castri.

Di Castri describes her work in terms of storytelling: "In Lineage, I was interested in exploring the idea of what is passed down. As a kid, I loved listening to my grandparents tell stories about 'the-old-country' or of life in the village or on the farm. These tales were at once so real through their repetition, and yet at the same time were so foreign and removed from my own personal experience. Thinking of this, I hoped to create a piece in which certain elements are kept constant while others are continually altered, adopted, or are added on, creating an ever-evolving narrative. In preparing for this piece, I also spent much time reflecting upon what it means to 'return'—to keep coming back to something (or someone) that serves as a grounding force. I was interested in the idea of a landmark or point of origin, which remains steadfast, yet also evolves subtly over time. The constant nature of this rootedness is what allows us to orient ourselves; it serves as a bearing when navigating the many branches of unchartered possibility. It is also the measuring stick by which we gauge how far we've come and how far we've yet to travel…The resulting music is a combination of change and consistency, a re-imagining of places and traditions I've known only second-hand, the sound of a fictitious culture one dreams up to keep the memories of another generation alive."

Zosha Di Castri, the inaugural New Voices composer, is a Canadian composer and pianist living in New York. She is currently pursuing doctoral studies in composition at Columbia University, studying with Fred Lerdahl. After completing a B.Mus. in composition and piano performance at McGill University, Ms. Di Castri moved to Paris to pursue further musical studies. Her composition teachers have included Brian Cherney, Philippe Hurel, Fabien Lévy, and Tristan Murail. She has also worked with Martin Matalon, John Rea, Hanspeter Kyburz, and Beat Furrer at various summer festivals. Her compositions have been performed in Canada, the U.S., Germany and France by such ensembles as the Edmonton Symphony Orchestra, members of the Internationale Ensemble Modern Akademie, l'Orchestre de la Francophonie canadienne, Le Nouvel Ensemble Moderne, and JACK Quartet. Di Castri's work Alba, a commission in honor of Marin Alsop's 20th anniversary by composer John Adams, received its world premiere at the 2011 Cabrillo Festival of Contemporary Music. She has also participated in a short-term residency at the Banff Centre, the New Music Session at Domaine Forget, and the National Arts Centre's summer composition program. She was recently awarded two SOCAN prizes for chamber music, named a laureate of the 3rd International Composer's Competition for the Hamburger Klangwerktage Festival, had a new piece performed at Acanthes in Metz by members of the Orchestre national de Lorraine, and was commissioned to write new works for The Banff Centre and for Nouvel Ensemble Moderne. She is currently one of the composers in residence for the newly formed Ensemble Portmantô in Montreal.

> Click here to see Zosha Di Castri discuss her percussion quartet Manif.
Photo: David Adamcyk

Boosey & Hawkes Composer News