York Höller: new cello concerto and opera in Hamburg
(October 2013)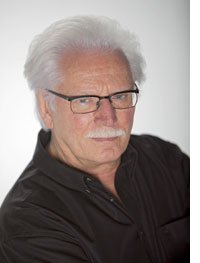 Hamburg is turning the spotlight on York Höller, with a new production of his opera The Master and Margarita and the premiere of his Cello Concerto in a composer portrait concert.
With the premiere of his Cello Concerto and a new staging of his opera The Master and Margarita, York Höller is currently receiving a special focus in Hamburg. The Cello Concerto was written for Adrian Brendel and the first performance is part of a special Höller portrait concert on 15 November by the NDR Symphony Orchestra conducted by Alejo Pérez. The programme also includes Holler's Sphären, which won the prestigious Grawemeyer Award, and music by the composer's teacher Bernd Alois Zimmermann.

The Cello Concerto grew from Höller's earlier Mouvements for cello and piano, which had been premiered by Adrian Brendel. This prompted the composer to expand the work with full orchestral accompaniment. Höller's output includes a special emphasis on concertos which explore the refraction of ideas between an individual and a larger group. The first of his two piano concertos was premiered by Peter Donohoe and championed by Daniel Barenboim, and the second entitled Pensées employs a MIDI grand piano and electronics. The double concerto Widerspiel pits two pianos against orchestra, while the trumpet concerto Fanal exchanges signals between soloist and ensemble.

Höller's opera The Master and Margarita is based on the remarkable novel by Bulgakov in which the devil makes a visit to Moscow, causing havoc but assisting the redemption of a writer and his lover. The work was premiered at the Paris Opera in 1989 in a production by Hans Neuenfels, staged at the Cologne Opera, recorded for Oehms Classics, and in September received a new production by Jochen Biganzoli at the Hamburg State Opera, conducted by Marcus Bosch. Höller's score, like the novel, operates on many levels, combining lyrical writing of Bergian intensity, colourful orchestration, sophisticated electronics, and a time-travelling aspect, not least in the Grand Ball of Satan. A suite from the opera, Margarita's Dream, for soprano, orchestra and electronics is also available for performance.

York Höller's new orchestral work, Voyage, is premiered by the Seoul Philharmonic Orchestra under Pierre-André Valade in April, with a German premiere by the Gürzenich Orchestra and Markus Stenz the following month. Höller's 70th birthday is celebrated in January 2014.
> Further information on Work: Konzert für Violoncello und Orchester
Photo: York Höller (2009) © by Hanne Engwald

Boosey & Hawkes Composer News