I Still Play: New Album Features Piano Works by Three Boosey Composers
(June 2020)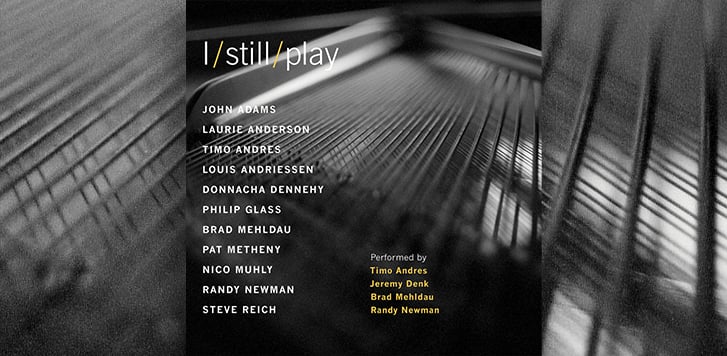 A new album of piano works released by Nonesuch Records features pieces by Boosey composers Steve Reich, Louis Andriessen, and John Adams, whose work I Still Play is also the titular track.
I Still Play, a new album of piano works from Nonesuch Records, features pieces by Steve Reich, Louis Andriessen, and John Adams, all written in honor of longtime Nonesuch President Bob Hurwitz as he moved to the position of Chairman Emeritus in 2017. John Adams developed the idea for composers closely associated with the label to write piano pieces for Hurwitz, himself a lifelong pianist. The works were all premiered at the Brooklyn Academy of Music in 2017.
As Adams has explained, Hurwitz is the person who "still plays" the piano every day. His contribution I Still Play is written as a set of brief variations, inspired by Hurwitz's love of the Bach Goldberg Variations. It is performed by acclaimed pianist Jeremy Denk, who also recorded the Goldberg Variations with Nonesuch during Hurwitz's tenure.
Steve Reich's joyful, rhythmic For Bob is performed by pianist-composer Timo Andres. Nonesuch has released many recordings of Reich works over the past four decades, including the recent world premiere recording of Pulse for large ensemble and the GRAMMY-winning recording of Music for 18 Musicians by Steve Reich and Musicians.
Louis Andriessen's Rimsky or La Monte Young references and contrasts the Russian composer Nikolai Rimsky-Korsakov with American minimalist La Monte Young. The jaunty, brief work is also performed by Timo Andres.
> LISTEN: Rimsky or La Monte Young
Andres, who recorded the majority of the tracks, notes the conversational tone of the album, written entirely by friends of the dedicatee, stating: "If the listener has the odd feeling of having stumbled into an exchange between two friends and missing an inside joke or shared reference here and there—that's not far from the truth." Still, those not "in on the joke" can certainly enjoy this intimate album, which Financial Times noted in a four-star review is an "all-star collection" that "embraces the wide range of contemporary music that Nonesuch has cultivated."

Boosey & Hawkes Composer News