In Search of Kashperova: five video shorts rediscovering the lost Romantic composer
(May 2022)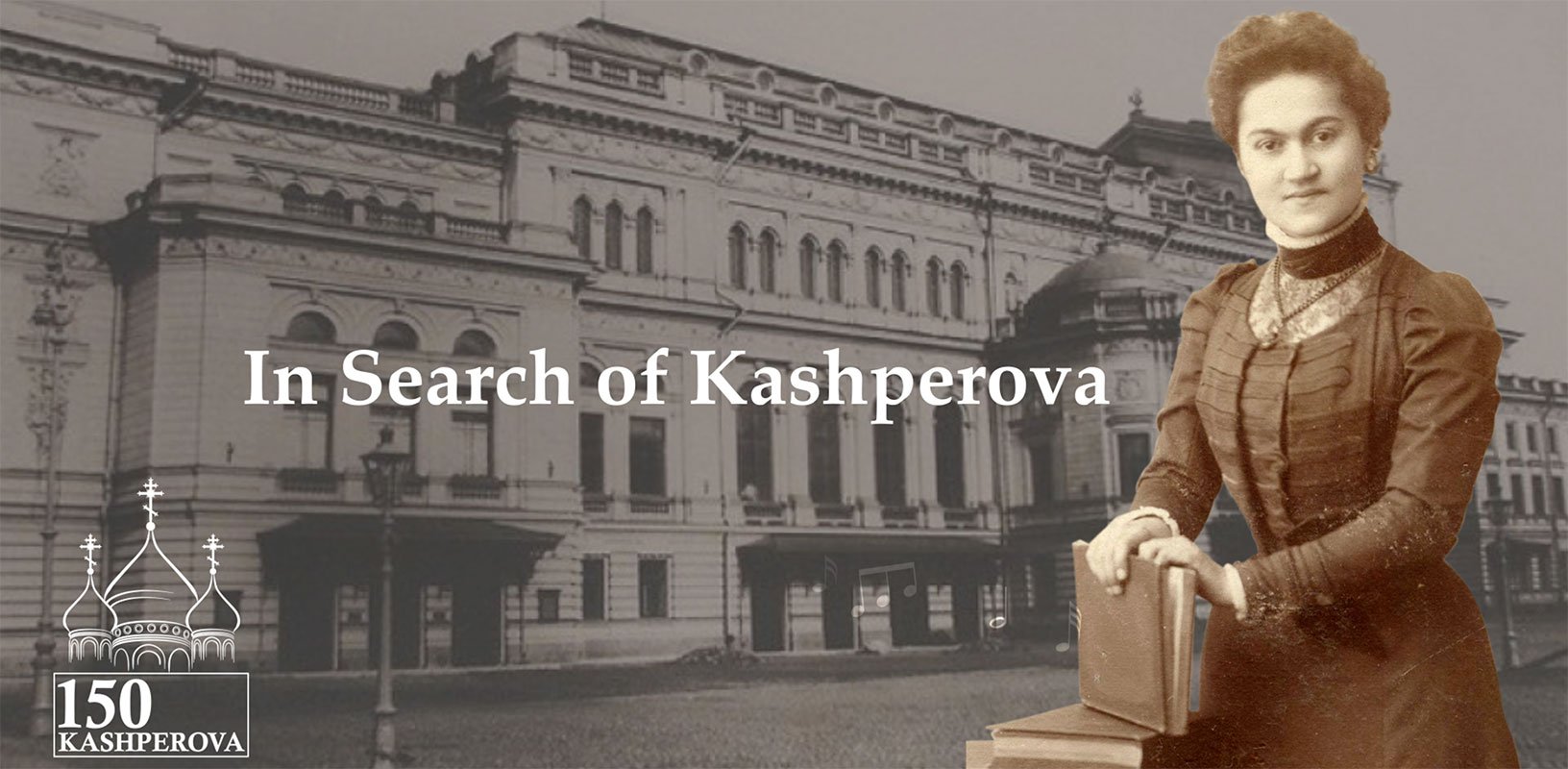 Boosey & Hawkes presents a series of short video documentaries celebrating the newly-discovered Romantic composer Leokadiya Kashperova in her 150th anniversary year. The five weekly episodes are hosted by Graham Griffiths whose search for the lost composer has led to the new Boosey & Hawkes Kashperova Edition.
A new series of five short video documentaries from Boosey & Hawkes, In Search of Kashperova, reveal a Russian composer lost to history. The name of Leokadiya Kashperova (1872-1940) existed solely in a historic footnote as Stravinsky's piano teacher but the researches of Graham Griffiths have now uncovered her role as a significant composer in her own right, leading to the new Boosey & Hawkes Kashperova Edition. The five videos celebrate this year's 150th anniversary of Kashperova's birth and are released weekly from 16 May 2022, the date of the 150th birthday. The day also sees a concert taking place at St Paul's, Knightsbridge in London featuring the composer's chamber music and songs.
Hosted by Graham Griffiths, the new videos tell the story of how Kashperova's music was rediscovered in Moscow after a century of silence since the Russian Revolution. The five episodes include readings from her own memoirs and those of Stravinsky, together with contributions from performers who have recently reintroduced her music to audiences in concert, on first recordings and BBC broadcasts. The video series helps affirm Kashperova as the greatest female Russian composer of the early 20th century.
Graham Griffiths comments: "Nothing can be more exciting, and more refreshing, than to rediscover a lost composer of real stature. Leokadiya Kashperova is, surely, a supreme example: her beautiful Romantic music, praised by Rimsky-Korsakov, is now captivating audiences again – Kashperova's Piano Trio described (Edinburgh International Festival 2021) as 'a very impressive discovery'. This series of Boosey & Hawkes videos is an invitation to hold our own flickering candle to the dark recesses of music history and be amazed at what catches our eye and ear. Performers, researchers and members of the Stravinsky family share their passion for the newest name on their roster of favourite Romantic composers. And invite us to join them in the search for Leokadiya Kashperova."
The Boosey & Hawkes Kashperova Edition was launched in 2021 with the publication of the composer's Cello Sonatas Nos.1 and 2 and the piano suite In the Midst of Nature. Further publications this spring include the Piano Trio in A minor and the choral work Evening and Night. Future releases include the Songs of Love: 12 Romances, The Eagle and the Snake and Where do the Stars Come From? The edition also includes performance materials for the Symphony in B minor and the Piano Concerto in A minor which is awaiting its first modern broadcast and recording during this 150th anniversary year.
The In Search of Kashperova video series is viewable on the Boosey & Hawkes YouTube channel and on www.boosey.com/audiovisual.
In Search of Kashperova
Episode 1: Symphonic memories  > Watch Now
Kashperova's major work, the Symphony in B minor, was the first of her scores to be rediscovered at the St Petersburg Conservatoire, revealing memories of her childhood near Yaroslavl.
Music includes Symphony in B minor.
Episode 2: Rubinstein's pupil  > Watch Now
Kashperova was a star pupil of Anton Rubinstein and her pianistic brilliance informed many of her own works, including her final Piano Trio, unperformed until 2020.
Music includes Piano Trio in A minor.
Episode 3: Cello sonatas  > Watch Now
After her graduation in St Petersburg in 1895, Kashperova composed her opus 1, consisting of two expansive Romantic cello sonatas which she performed with the eminent Alexander Verzhbilovich.
Music includes Cello Sonata No.1.
Episode 4: Stravinsky's teacher > Watch Now
Between 1899 and 1901 Kashperova taught Stravinsky, providing the technical backbone for his later career as a solo pianist. Her own Piano Concerto, acclaimed in Moscow and St Petersburg, dates from this period.
Music includes Kashperova Piano Concerto, Stravinsky Concerto for piano and winds.
Episode 5: Russian voices > Watch Now
Kashperova's range encompassed many genres, including vocal music, but all was to fall into silence after her flight from Petrograd in 1917 and her death in obscurity in Moscow two decades later.
Music includes Songs of Love: 12 Romances.
Music licensed courtesy of BBC Concert Orchestra, Hyperion Records, Pushkin House, Edinburgh International Festival, Susan Edward, David Levi.
Executive Producers: David Allenby & Bronte Larsen-Disney
Production and Editing: Julian Langham
About Graham Griffiths
Dr Graham Griffiths is an Honorary Research Fellow (Musicology) at City, University of London and a member of the editorial board of the St Petersburg Conservatoire ('Opera Musicologica'). His ground-breaking study Stravinsky's Piano: Genesis of a Musical Language was published in 2013 and he is editor of and contributor to Stravinsky in Context (Cambridge University Press, 2021). Recent articles have appeared in Abécédaire Stravinsky (Editions La Baconière, 2018) and The Cambridge Stravinsky Encyclopaedia (CUP, 2021). He was founder-director of the contemporary music ensemble Grupo Novo Horizonte de São Paulo (1989-99) and Vice-President of the Sociedade Brasileira de Musicologia (1995-7). He has published in the UK, Brazil, Germany, Russia and Switzerland.
Press contacts
David Allenby (VP, Publicity & Marketing)
[email protected]
Bronte Larsen-Disney (Publicity & Media Co-ordinator)
[email protected]
> Further information on Work: Symphony in B minor

Boosey & Hawkes Composer News