Reich/Richter receives European premiere performances in London
(October 2019)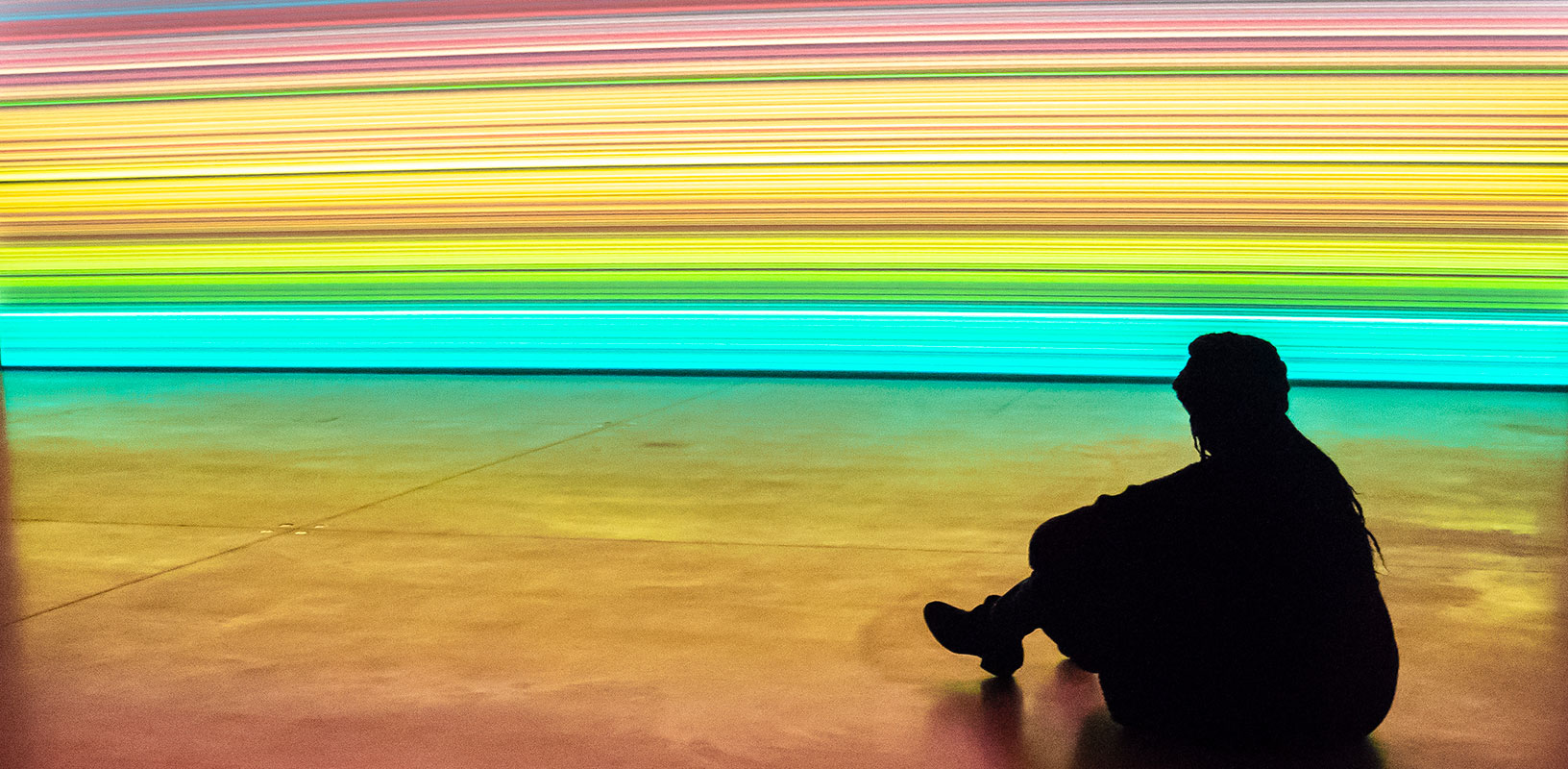 Steve Reich's latest work, Reich/Richter, for large ensemble with film by renowned painter Gerhard Richter and filmmaker Corinna Belz, has its first European performances this season in London, Luxembourg, Paris, Tallinn and Oslo.
"Steve Reich has responded to the art of Gerhard Richter with a wonderfully lively yet melancholy new composition." So wrote the Sunday Times reviewing the premiere of the new collaboration between composer and artist, which travels to Europe for the first time this season. The world premiere in April was a highlight among opening events at The Shed, a stunning new inter-disciplinary arts space in New York, with over 200 performances of Reich/Richter shared between Ensemble Signal and International Contemporary Ensemble.
Scored for six winds, two percussionists, two pianos and string quartet, Reich/Richter receives its European premiere in two concerts combining live performance and film at the Barbican in London on 23 October with Britten Sinfonia conducted by Colin Currie. Reich will be in London attending the pair of performances and takes part in a preview conversation about his music at St Luke's on 22 October. Performances of Reich/Richter follow in Luxembourg (24 November), Paris (7 March), Tallinn (17 April) and Oslo (14 May) with Ensemble Intercontemporain, the Estonian National Symphony and the Oslo Philharmonic and conductors George Jackson, Elim Chan and Olari Elts.
Reich created his 37-minute work to be heard alongside a new film by Gerhard Richter and Corinna Belz, based on Richter's Patterns series. Using a computer image of a 1990 abstract painting, Richter progressively divided and mirrored the canvas. The result is an image that becomes a series of increasingly dense patterns, and eventually solid bands of colours. The film reverses the order of the book (starting with solid bands of colours and moving towards the complete painting).
As Reich describes, "what really got me involved was the very beginning of the film with the pulsating, color shifting, glowing stripes. Instead of dividing, mirroring, and repeating, the film was multiplying and repeating. In computer terms, the initial stripes were made with 2 pixels. Then they gradually grew to 4, 8, 16, 32, and so on… The structure of the music would be tied to the structure of the film. That was the basic idea… I think that they're very much mutually reinforcing."
"…tender energy, and an undercurrent of melancholy… A two-note motif builds to complex, rhythmically agile brightness, then gradually recedes back into blur as we watch Richter's bands seem to rush by at light speed, fervently oscillating, at the finale."
New York Times
"With each change on screen, the music responds: As the colors differentiate into intricate shapes, thunderous piano basses and descending clarinet melodies emerge…As the visual changes ramp up, Mr. Reich's music becomes more raucous and syncopated… The effect is exhilarating."
Wall Street Journal
> Further information on Work: Reich/Richter
Photo: Stephanie Berger courtesy The Shed

Boosey & Hawkes Composer News