Wer ist Leokadiya Kashperova? Fünfteilige Doku über die wiederentdeckte Komponistin
(May 2022)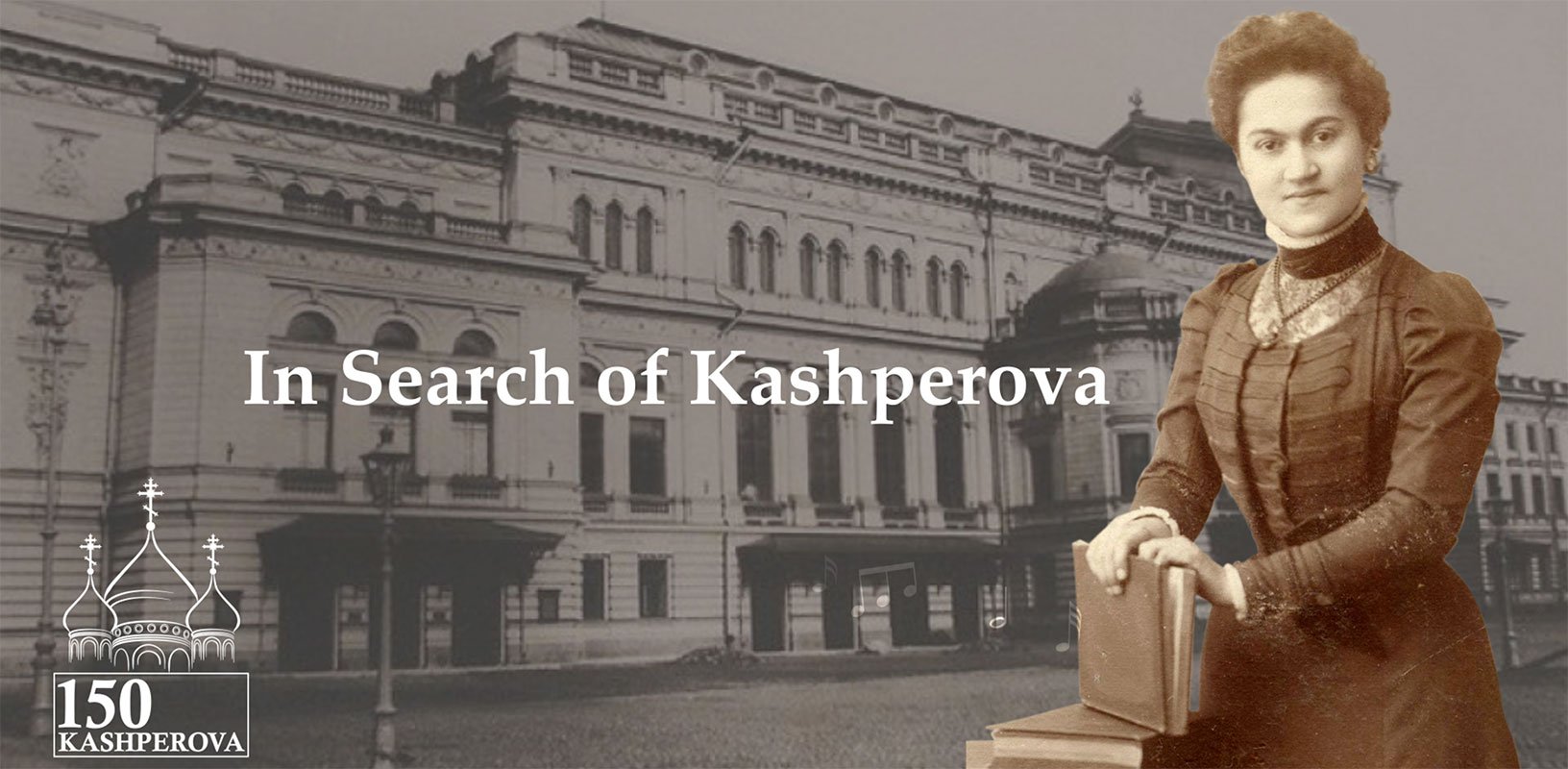 Unter dem Titel "In Search of Kashperova" präsentiert Boosey & Hawkes eine Reihe von Kurzvideos (in englischer Sprache) über die jüngst entdeckte romantische Komponistin Leokadiya Kashperova, deren 150. Geburtstag am 16. Mai 2022 zu feiern ist.
Jeweils im Wochenabstand publizieren wir auf unserer Internetseite insgesamt fünf Folgen dieser Dokumentation. Sie werden von Graham Griffiths moderiert, dessen Forschungen zu der bislang so gut wie unbekannten Komponistin geführt hat und zur Edition ihrer Werke, die nun bei Boosey & Hawkes erscheinen.
Der Name Leokadiya Kashperova (Leokadia Kaschperowa, 1872 – 1940) existierte zuvor nur als historischen "Fußnote", und zwar als Klavierlehrerin Igor Strawinskys. Aber die Nachforschungen von Graham Griffiths haben nun ihre Bedeutung als Komponistin aufgedeckt. An Kashperovas 150. Geburtstag findet auch ein Konzert in St. Paul's, Knightsbridge, in London statt, bei dem Kammermusik und Lieder der Komponistin zur Aufführung kommen.
Unsere neue Video-Dokumentation, moderiert von Graham Griffiths, erzählt die Geschichte von Kashperovas Wiederentdeckung in Moskau, nachdem ihre Musik und Details ihrer Biografie seit der Russischen Revolution ein Jahrhundert lang vergessen waren. Die fünf Episoden umfassen Lesungen aus den Lebenserinnerungen von Strawinsky und von Kashpervoa selbst sowie Interviews mit Interpret*innen, die ihre Musik jüngst mit Konzerten, Ersteinspielungen und in Runfunk-Sendungen dem Publikum wieder nahegebracht haben. Die Videoserie zeigt, dass Leokadiya Kashperova das Zeug hat, als wichtigste komponierende Frau im Russland des frühen 20. Jahrhunderts eingestuft zu werden.
Graham Griffiths erklärt: "Nichts kann aufregender und erfrischender sein, als eine verschollene Komponistin von echtem Format wiederzuentdecken. Leokadiya Kashperova ist hierfür zweifellos ein hervorragendes Beispiel: Ihre wundervolle romantische Musik, von Rimski-Korsakow gepriesen, zieht nun das Publikum wieder in ihren Bann – Kashperovas Klaviertrio wurde beim Edinburgh International Festival 2021 als sehr beeindruckende Entdeckung beschrieben. Die Reihe von Videos bei Boosey & Hawkes ist eine Einladung, unsere flackernde Kerze in die dunklen Nischen der Musikgeschichte zu halten und zu staunen, was unsere Augen und Ohren dort zu fesseln vermagt. Interpret*innen, Forschende und Mitglieder der Strawinsky-Familie teilen die Leidenschaft für Kashperova – den neuesten Namen auf der Liste vielgeliebter romantischer Komponisten. Machen wir uns gemeinsam auf die Suche nach Leokadiya Kashperova!"
Die Boosey & Hawkes Kashperova Edition wurde 2021 mit der Veröffentlichung der Cellosonaten Nr. 1 und 2 sowie der Klaviersuite "Au sein de la nature" gestartet. Weitere Publikationen folgen im Frühjahr 2022 mit dem Klaviertrio a-Moll sowie dem Chorwerk Abend und Nacht.. Zu den künftigen Editionsvorhaben gehören die 12 Liebensromanzen, die Ballade Der Adler und die Schlange und Woher kommen die Sterne? Die Ausgabe umfasst auch Aufführungsmaterial für die Symphonie h-Moll und das Klavierkonzert a-Moll, dessen erste Einspielung und Ausstrahlung im Jahr von Kashperovas 150. Geburtstag bevorsteht.
Die Video-Reihe "In Search of Kashperova" ist auf dem YouTube-Kanal von Boosey & Hawkes und auf www.boosey.com/audiovisual zu sehen.
In Search of Kashperova | Wer ist Leokadiya Kashperova
Folge 1: Symphonic memories | Symphonische Erinnerungen  > Hier anschauen
Kashperovas wichtigstes Werk, die Sinfonie h-Moll, war die erste ihrer Partituren, die nun am St. Petersburger Konservatorium wiederentdeckt wurde. Sie offenbart Reminiszenzen an die Kindheit der Komponistin der Nähe von Jaroslawl.
Musik: Symphonie h-Moll
Folge 2: Rubinstein's pupil | Schülerin Rubinsteins  > Hier anschauen
Kashperova war eine Meisteschülerin bei Anton Rubinstein. Ihre Brillanz als Pianistin hatte Einfluss auf viele ihrer eigenen Kompositionen, darunter ihr spätes Klaviertrio, das bis 2020 nicht aufgeführt wurde.
Musik: Klaviertrio a-Moll
Folge 3: Cello sonatas | Cellosonaten  > Hier anschauen
Nach ihrem Studienabschluss 1895 in St. Petersburg komponierte Kashperova ihr Opus 1: zwei umfangreiche romantischen Cellosonaten, die sie selbst zusammen mit dem bedeutenden Solisten Alexander Werschbilowitsch aufführte.
Musik: Cellosonate Nr. 1
Folge 4: Stravinsky's teacher | Strawinskys Lehrerin  > Hier anschauen
Zwischen 1899 und 1901 unterrichtete Kashperova Igor Strawinsky und legte so das spieltechnische Fundament für seine Karriere als Solopianist. Ihr eigenes Klavierkonzert, das in Moskau und St. Petersburg begeistert aufgenommen wurde, stammt aus dieser Zeit.
Musik: Kashperova – Klavierkonzert, Strawinsky – Konzert für Klavier und Bläser
Folge 5: Russian voices | Russische Stimmen  > Hier anschauen
Kaschperowas Schaffen umfasst viele Genres, darunter auch die Vokalmusik. Doch nach ihrer Flucht aus Petrograd 1917 (sie starb zwei Jahrzehnte später in Moskau) geriet all dies in Vergessenheit – bis zur aktuellen Wiederentdeckung.
Musik: Liebeslieder
Musikverwendung mit freundlicher Genehmigung von BBC Concert Orchestra, Hyperion Records, Pushkin House, Edinburgh International Festival, Susan Edward, David Levi.
Ausführende Produzenten: David Allenby & Bronte Larsen-Disney
Produktion und Schnitt: Julian Langham
Über Graham Griffiths
Dr. Graham Griffiths ist Honorary Research Fellow (Musikwissenschaft) an der City University of London und Mitglied des Redaktionsausschusses des St. Petersburger Konservatoriums ("Opera Musicologica"). Seine Grundlagenarbeit Stravinsky's Piano: Genesis of a Musical Language erschien 2013, und er ist Herausgeber und Beiträger von Stravinsky in Context (Cambridge University Press, 2021). Neuere Artikel sind in Abécédaire Stravinsky (Editions La Baconière, 2018) und The Cambridge Stravinsky Encyclopaedia (CUP, 2021) erschienen. Er war Gründer und Leiter des Ensembles für zeitgenössische Musik Grupo Novo Horizonte de São Paulo (1989–99) und Vizepräsident der Sociedade Brasileira de Musicologia (1995–97). Er hat im Vereinigten Königreich, in Brasilien, Deutschland, Russland und der Schweiz publiziert.
 
> Further information on Work: Symphony in B minor

Boosey & Hawkes Composer News