Van der Aa's After Life: reviews at Holland Festival
(September 2006)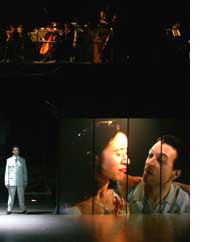 Van der Aa's After Life: reviews from Holland Festival
Seldom has the premiere of a contemporary opera by a young composer been greeted with such a unanimous round of critical and public praise. Michel van der Aa's new stagework After Life proved to be a highlight of the Holland Festival in June, with six sold-out performances, signalling the true emergence of a major creative talent. Het Parool hailed van der Aa as "the forerunner of a new generation of composers who think in video as well as in audio terms. Inescapable conclusion: After Life is a masterpiece."



After Life is based on the film by Japanese director Hirokazu Kore-Eda, set at a way station between earth and heaven for the recently deceased. Only if the transit passengers can select a defining moment from their life can they proceed onwards. The selected memories are filmed on video and then played back, prompting a dramatic collision between past and present. It is this exploration of memory in musical as well as theatrical terms that is so central to van der Aa's aesthetic, with his own production in Amsterdam expertly synchronising the different media.

"Michel van der Aa is the hottest property in Dutch music at the moment…Van der Aa's piece combines the imaginary with the real, intercutting the fictional operatic action with documentary video interviews… As the 100-minute piece goes on, the boundary between the two blurs until the four interviewees are seen on video encountering the operatic characters, so that their touching stories seem to infuse the fantasy with something much more directly emotional."
The Guardian

"Opera, theatre and video mesh together into a massive Gesamtkunstwerk that could only have been created by the hand of one single genitor. The often perfect transition from stage to video and the synchronised tempo changes of music and image pave the way for opera in the 21st century."
NRC Handelsblad

"The beautifully measured mix of instrumental music and electronics, which resounded through the Muziekgebouw, was executed with an unusual degree of perfection. The opera's strength lies in Van der Aa's virtuoso melding of all those different element into a new whole."
De Telegraaf

"This truly fabulous new opera deserves to go on tour worldwide"
De Trouw

Read an interview with Michel van der Aa about After Life.

A new ensemble work by Michel van der Aa receives its premiere performances by MusikFabrik in Cologne conducted by Ed Spanjaard (11 February), Klangforum Wien at the Konzerthaus in Vienna (14 March), and the Asko Ensemble in Amsterdam (24 April).
> Further information on Work: After Life
Photo: Netherlands Opera/Hans van den Bogaard

Boosey & Hawkes Composer News