Ercole su'l Termodonte
(1723)
Dramma per musica in three acts, edited by Alessandro Ciccolini and Alan Curtis
Duration: 130'
Music Text
Libretto by Antonio Salvi (I)
Scoring
5S,2A,T; mixed chorus;
2(opt).2.0.0-0.1.0.0-timp(opt)-hpd-continuo-solo vln-strings;
on-stage: 2vln
Abbreviations (PDF)
Opera
For full details on this stagework, including synopsis and roles, please visit our
Opera
section.
Publisher
Boosey & Hawkes / Bote & Bock
Territory
This work is available from Boosey & Hawkes for the world.
Availability
Repertoire Note
This important opera, performed in Rome a year earlier than Vivaldi's Il Giustino, and including the young Carestini in its cast, was long thought to be lost. Nearly all the arias have however been found, some missing their orchestral accompaniments, in various locations, and the lost recitatives and other missing parts have been composed by Alessandro Ciccolini.
Subjects
Recommended Recording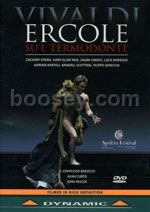 Stains / Nesi / Cherici / Dordolo / Bartoli / Scotting / Il Complesso Barocco / Alan Curtis / directed by John Pascoe (Spoleto Festival, 2006)
Dynamic (2007)