Frankenstein!! (ensemble version)
(1976-77)
A pan-demonium for baritone chansonnier and ensemble after children's rhymes
Duration: 28'
Music Text
Gedichte von H. C. Artmann; englische Übersetzung von Harriett Watts (dt., engl., frz.)
Scoring
1(=picc).0.1.1-1.1.0.0-perc(1):crot/flex/2Javanese gongs/vib/
xylorimba/2bongos/5tom-t/hi-hat/susp.cowbell/2susp.cym/tgl/tpl.bl/
wdbl/BD/SD/tamb/sandpaper blocks-pft-strings(1.1.1.1.1)
Woodwind,brass,perc, double on toy (children's) instruments, available on hire with materials
Abbreviations (PDF)
Publisher
Boosey & Hawkes
Territory
This work is available from Boosey & Hawkes in der ganzen Welt.
Opera
For full details on this stagework, including synopsis and roles, please visit our Opera section.
World premiere of version
9/30/1979
Staatsbibliothek, Berlin
HK Gruber, chansonnier / die reihe / Kurt Schwertsik

Composer's Notes
Die Wurzeln dieses "Pandämoniums" gehen auf die 1971 komponierte Frankenstein-Suite zurück, eine Folge von Songs und Tänzen, geschrieben für das Wiener MOB art und tone ART-Ensemble, welches damals im Bereich des instrumentalen Theaters aktiv war. Obwohl die Suite ein Erfolg war, machte mich ihr improvisatorischer Aufbau nicht glücklich und außerdem schien mir ein großes Orchester angebracht; 1976–77 arbeitete ich daher an einer totalen Neufassung, in der das Werk am 25. November 1978 mit dem Royal Liverpool Philharmonic Orchestra unter Simon Rattle und mit mir als Solisten zur Uraufführung kam. Für die Berliner Festwochen 1979 schrieb ich eine alternative Version für Solo und 12 Spieler (erstaufgeführt im selben Jahr, vom Wiener Ensemble die reihe unter Kurt Schwertsik und wieder mit mir als Solisten). Seitdem führen beide Fassungen eine glückliche Koexistenz und 1983 betrat Frankenstein!! sogar die Bühne. (Den Anfang machte das Théâtre Espace Pierre Cardin in Paris.) Eine unvorhergesehene Entwicklung, aber wie sich zeigte eine, die gut zu Artmanns vielschichtiger Phantasie paßte.
"allerleirausch, neue schöne Kinderreime", der Titel des Bandes, dem die Frankenstein!!-Gedichte entnommen sind, verspricht Harmloses, aber Artmann selbst hat seine Reime unter anderem als verschlüsselte politische Statements beschrieben. Nähere Erklärungen hat er typischerweise verweigert. Aber seine Verschwiegenheit ist beredt genug: Die Monster des politischen Lebens haben stets versucht, ihre wahren Gesichter zu verbergen, und allzuoft ist's ihnen auch gelungen. Eine der zwielichtigen Figuren in dem Pandämonium ist der unselige Wissenschaftler, der seinen so überraschenden Auftritt am Schnittpunkt des Stückes hat. Frankenstein, oder wen immer wir mit diesem Namen identifizieren mögen, ist nicht der Protagonist, aber hinter den Szenen jene Figur, die wir zu uns'rer Gefahr vergessen. Daher die Rufzeichen!
Artmanns Entmystifizierung heroischer Schurken oder schurkischer Heroen findet musikalische Parallelen, beispielsweisein der ständigen Verfremdung des konventionellen Orchesterklanges durch den Griff in einen Schrank voller Spielzeuginstrumente. So pittoresk und amüsant der optische Effekt auch sein mag, ihre primäre Rolle ist musikalisch und es geht dabei um mehr, als um bloße Verspieltheit Sogar die heulenden Plastikschläuche haben ihre motivisch-harmonische Funktion. Um den Texten in ihrer eigentlichen Bedeutung voll gerecht zu werden, konnte es eben nicht genügen, Fleißaufgaben in struktureller Komplexität abzuliefern. Mein Ziel war, analog der Artmannschen Schreibweise eine breite Palette alter sowie neuer und populärer musikalischer Idiome gezielt zu verarbeiten. Damit sollte der trügerischen Einfachheit der Texte entsprochen werden, deren Formen zunächst naive, unschuldig populäre und gemütvolle Stimmungen suggerieren.
HK Gruber
Abdruckrechte:
Dieser Werkkommentar darf in Programmheften kostenfrei abgedruckt werden mit dem Hinweis: "Abdruck mit freundlicher Genehmigung des Komponisten"
Subjects
Recommended Recording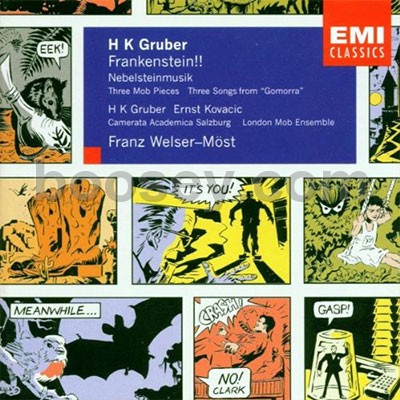 Heinz Karl Gruber / Salzburg Camerata Academica / Franz Welser-Möst
EMI CLASSICS 7243 5 56441 21