Opera in 3 Acts
Duration: 110'
Music Text
Libretto: Martin Esslin nach P.B.Shelley
Scoring
S,M,A,3T,2Bar,2B; small roles; chorus;
3(III=picc).3(III=corA).3(III=bcl).3(III=dbn)-4.3.3.1-timp.perc(2/3):
susp.cym/BD/tgl/xyl/glsp/vib/cyms/tam-t/lg tam-t/t.bells/TD/SD-harp-
strings
Abbreviations (PDF)
Publisher
Boosey & Hawkes
Territory
This work is available from Boosey & Hawkes der ganzen Welt.
Opera
For full details on this stagework, including synopsis and roles, please visit our Opera section.
World Premiere
4/16/1988
Queen Elizabeth Hall, London
Pro Musica Chorus of London / London Chamber Symphony / Odaline de la Martinez

World stage premiere
9/10/1994
Magdeburg
Max K. Hoffmann, director / Theater Magdeburg / Mathias Husmann

Repertoire Note
Als eines von vier Werken wurde Goldschmidts zweite Oper 1949 bei dem Wettbewerb "Festival of Britain" vom British Arts Council ausgezeichnet. Es kam jedoch nicht zu der versprochenen Aufführung – die Uraufführung folgte erst vierzig Jahre später, zunächst in konzertanter Form 1988 in London, dann als Bühnenwerk 1994 in Magdeburg. Das bewusst verwendete, moderne "Belcanto"-Idiom macht Beatrice Cenci zu einer opulenteren und romantischeren Oper als ihre Vorgängerin; einige Passagen gehören zur leidenschaftlichsten, ausdrucksvollsten Musik in Goldschmidts Werk.
Press Quotes
"Goldschmidts Opernmusik verdient einen festen Platz im Repertoire: für das gesungene Wort geschrieben, ist sie füllig und farbig, erregend und anrührend. Ihre Kantabilität dient den Sängern, ihre illustrativ-plastiche Kraft hält den Hörer in Bann."
Westdeutschen Zeitung
Subjects
Recommended Recording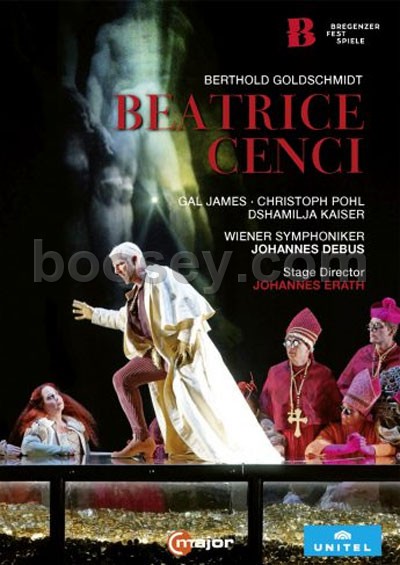 Gal James, Christoph Pohl, Dshamilja Kaiser, Christina Bock / Prager Philharmonischer Chor / Wiener Symphoniker / Johannes Debus, cond. / Johannes Erath, dir. (Bregenzer Festspiele 2018)
C Major / Unitel DVD 751408 / Bluray 751504