for 6 players
Duration: 20'
Scoring
fl(=picc).cl(=Eb,bcl)-perc(1):glsp/crot/marimba/lg susp.cym/SD/BD/3tpl.bl/4tom-t-pft-vln.vlc
Abbreviations (PDF)
Publisher
Boosey & Hawkes (Hendon Music)
Territory
This work is available from Boosey & Hawkes for the world.
World Premiere
4/23/1983
Symphony Space , New York, NY
The Fires of London

Composer's Notes
Triple Duo, for an ensemble of six musicians, is a work, as its name implies, that treats the group as three pairs of instruments: flute/clarinet, violin/cello, piano/percussion. Each of these pairs has its own repertory of ideas and moods. This free fantasy involves various contrasts, conflicts and reconciliations between the three duos. Triple Duo was composed during 1982 in Waccabuc, New York.


- Elliott Carter



Reproduction Rights:
This programme note can be reproduced free of charge in concert programmes with a credit to the composer.
Recommended Recording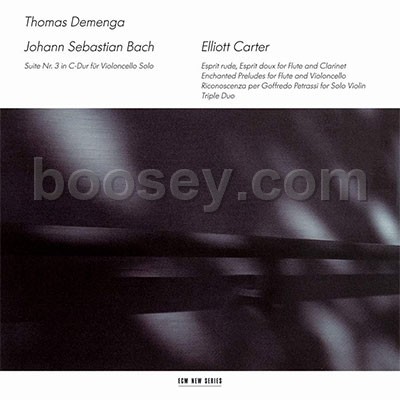 Gerhard Huber/Philippe Racine/Paul Cleemann/Thomas Demenga/Ernesto Molinari/Hansheinz Schneeberger/Jürg Wyttenbach
ECM 8396172