Kiss on Wood
- Version for cello and piano
(1993)
Duration: 9'
Publisher
Boosey & Hawkes
Territory
This work is available from Boosey & Hawkes for the world.
World premiere of version
12/15/1994
Wigmore Hall, London
Julian Lloyd Webber, vlc / John Lenehan

Composer's Notes
Kiss on Wood is a short, static and serene meditation originally for violin and piano, and later arranged for cello and piano. Lasting about eight minutes it is an ornamental and highly elongated paraphrase on the Good Friday versicle, Ecce lignum crucis in quo salus mundi pependit: Venite adoremus (Behold the wood of the cross on which the saviour of the world was hung: come let us adore him). This is sung as the crucifix is slowly unveiled and before the people are invited forward to kiss the wood of the cross. The music and title are devotional an intent but can equally represent a gesture of love on the wooden instruments making this music.
James MacMillan
Reproduction Rights
This programme note can be reproduced free of charge in concert programmes with a credit to the composer
Recommended Recording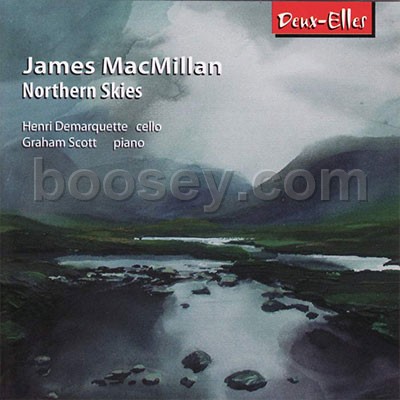 Henri Demarquette vcl / Graham Scott pft
Deux-Elles DXL 1115