Dies Natalis
op. 8
(mid 1920s,1938-39)
Cantata for soprano (tenor) and strings
Duration: 25'
Music Text
Thomas Traherne (E)
Abbreviations (PDF)
Publisher
Boosey & Hawkes
Territory
This work is available from Boosey & Hawkes for the world.
Availability
World Premiere
1/26/1940
Wigmore Hall, London
Elsie Suddaby, soprano / Maurice Miles String Orchestra / Maurice Miles
Repertoire Note
Quintessentially the essence of Finzi, Dies natalis sets texts by the 17th century poet Thomas Traherne which reflect the joy and wonder of a newborn child's innocent perspective on the world. The richly textured, resourceful string writing and the long instrumental melodic lines have a broad sweep which carries the music naturally forwards in a unity of spirit with the poetry - a hallmark of Finzi's art. The subtle inflections of the word-setting and the arching lyricism have attracted many leading vocalists to the work in concert and on disc, including Wilfred Brown, Ian Partridge, Philip Langridge, Ian Bostridge and John Mark Ainsley. Although particularly associated with the tenor voice, Dies natalis was premiered and is increasingly performed by sopranos, including Amanda Roocroft and Rebecca Evans.
Press Quotes
"...this setting of poems by Thomas Traherne is one of the masterpieces of 20th-century English music."
The Guardian
Subjects
Recommended Recording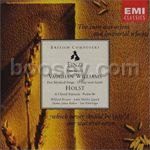 Wilfred Brown, English Chamber Orchestra, Christopher Finzi
EMI CDM5 65588-2
Links