Scoring
3(I,IItuned quartertone flat).picc.2(II=corA).1.Ebcl.2.dbn-4.2.3.1-
timp.perc(4):SD without snares, provencale dr;tgl/susp.cym/tam-t;SD/
BD/TD;xyl/glsp-cel-pft-strings(8,including 2 soli tuned quartertone
sharp.8.6.6,including 2 soli tuned quartertone sharp.4)
Abbreviations (PDF)
Publisher
Boosey & Hawkes
Territory
This work is available from Boosey & Hawkes for the world.
Availability
World Premiere
6/26/1933
Salle Gaveau, Paris
Orchestre Symphonyique de Paris / Roger Desormiere
Repertoire Note
Widely regarded as Markevitch's masterpiece, his ballet on the myth of Icarus, who flew too close to the sun and fell to earth, was commissioned by Serge Lifar but never staged. It won instant success in the concert hall and was hailed internationally as one of the most advanced and accomplished scores of its time. With its microtonal tunings, complex polyrhythms and pointillist scoring, it can now be seen to bridge the gap between Stravinsky and Messiaen. In 1943 Markevitch created an alternative version, Icare, without the microtones.
Recommended Recording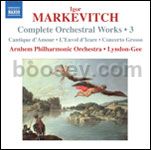 Arnhem Philharmonic Orchestra / Christopher Lyndon-Gee
(p) & © 1997 HNH International Ltd
Naxos 8.572153
Links