Opéra in three acts (original version with spoken dialogues)
Duration: 165'
Music Text
Libretto by François-Benoît Hoffman (F)
Scoring
2S,M,T,BBar; small roles:2S,1spoken role; silent roles; mixed chorus;
2(I=picc).2.2.2-4.0.1(+1 opt trb).0-timp-strings; wind instruments from orchestra and thunder machine off-stage
Abbreviations (PDF)
Opera
For full details on this stagework, including synopsis and roles, please visit our
Opera
section.
Publisher
Anton J. Benjamin / Simrock
Territory
This work is available from Boosey & Hawkes for the world.
Availability
World Premiere
3/13/1797
Théâtre Feydeau, Paris
Julie-Angélique Scio (Médée) / Pierre Gaveaux (Jason)
World premiere of version
3/6/2008
Theater an der Wien, Wien
Torsten Fischer, director / Iano Tamar / Zoran Todorovich / Arnold Schoenberg Chor / Wiener Symphoniker / Fabio Luisi
Repertoire Note
The commanding role of Medea provokes both sympathy and dismay; Cherubini's music draws us into her inner struggle, the dramatic shift from love to devastating hatred. Rather than focussing on the plot itself, however, the opera explores the psychological processes experienced by the characters. With its stylistic diversity, its dark grandeur and sublimity as well as its grand, self-contained musical scenes, Médée points far beyond the operas of Cherubini's contemporaries. Hence the acclaim for the work expressed by Haydn, Beethoven, Mendelssohn, Schumann, Wagner and Brahms does not come as a surprise; indeed, Brahms went so far as to praise Médée as the "highest dramatic art".
Press Quotes
"Cullmann's rightly award-winning version removes all these alterations. Now, a sharp, budding piece of music theatre emerges to excite the audience, for which the generic concept opéra-comique is intended – as much for Médée as for Carmen. However, above all, in the Callas recordings of Medea the classical performance style seems bloodless and empty. In Brussels, with Christoph Rousset and his orchestra Les Talents Lyriques, experts in historical performance present the Cullman version for the first time, and already by the F minor overture, this results in a storm of passion breaking the bounds and rules of convention." Süddeutsche Zeitung
Subjects
Recommended Recording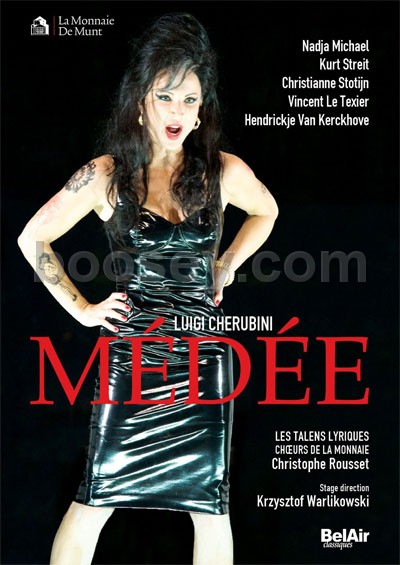 Michael, Streit, Stotijn, Le Texier, Van Kerckhove / Les Talens Lyriques & Chœurs de la Monnaie / Christophe Rousset (Brussels 2011, directed by Krzysztof Warlikowski)
Bel Air Classiques DVD & Blue-Ray
News stories for this title:
Links