The Duenna
(La Dueña)
(1945-49)
Opera in three acts
Duration: 130'
Music Text
Libretto by the composer and Christopher Hassall after Richard Brinsley Sheridan's comedy (E,G). Performing Edition (1991) by David Drew.
Scoring
Major roles: S,2M,2T,2Bar,B; small roles: T,B,3speakers;
chorus; dancers
2.picc.2.corA.2.bcl.2-4.2.2.euph.1-timp.perc(3):xyl/cast/rattle/
3Chin.tom-t/Korean tpl.bl/tamb/SD/BD/cyms/2susp.cyms/tam-t-
cel-harp-strings
Abbreviations (PDF)
Opera
For full details on this stagework, including synopsis and roles, please visit our
Opera
section.
Publisher
Boosey & Hawkes
Territory
This work is available from Boosey & Hawkes for the world.
Availability
World stage premiere
1/21/1992
Teatro Lirico Nacional, Madrid
Felicity Palmer, David Rendall, Anthony Michaels-Moore, Richard van Allan, Dir: Jose-Carlos Plaza / Madrid Opera / Antoni Ros Marba
Subjects
Recommended Recording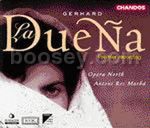 Claire Powell/Neill Archer/Richard van Allan/Adrian Clarke/Eric Roberts/Susannah Glanville/Opera North/English Northern Philharmonia/Antoni Ros Marbà
Chandos CHAN 9520
Links