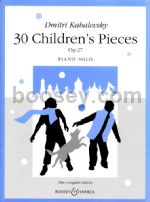 Kabalevsky, Dmitri - 30 Children's Pieces Op. 27 (Piano)
New complete edition with teaching notes
Instrumentation: Piano
ISMN 9790060113291
Publisher Boosey & Hawkes (London)
Availability: Stock Title
Level of Difficulty: Easy
A new edition of this children's classic, published complete by Boosey & Hawkes for the first time. Contains teaching notes by the internationally acclaimed pianist and teacher John York.
Contents

A Dramatic Event
A Little Fable
A Little Joke
A Little Song
A Sad Story
A Short Story
A Tale
An Old Dance
Ballade
Caprice
Cavalryman
Clowning Around
Dance
Dance on the Lawn
Etude in A Major
Etude in A Minor
Etude in F Major
Lullaby
March
Night on the River
Novelette
Playing Ball
Rondo
Scherzo
Snow Storm
Sonatina
The Chase
Toccatina
Waltz
War Dance
---
Press Reviews
"Many of these pieces are used in exam syllabuses or as competition repertoire. Kabalevsky's style is easily accessible for young players, making this publication a good purchase for piano teachers. John York's grading and commentary of the 30 pieces is helpful for those seeking a second opinion."
Customer Reviews
"What a lovely edition. Excellent comments; the editor's enthusiasm is contagious and students enjoy it. Rating of the difficulty of the pieces is quite helpful for teachers. Nice glossy cover. Good price."
Tell us what you think