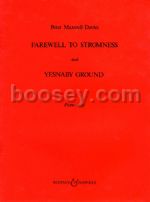 Maxwell Davies, Peter - Farewell To Stromness & Yesnaby Ground (Piano Solo)
Instrumentation: Piano
ISMN 9790060037474
Publisher Boosey & Hawkes (London)
Availability: Stock Title
Farewell to Stromness and Yesnaby Ground are piano interludes from The Yellow Cake Revue, a sequence of cabaret-style numbers protesting against uranium mining in the Orkney Islands. The Revue was first performed at the St. Magnus Festival, Orkney, by Eleanor Bron, with the composer at the piano, in June 1980.





Farewell to Stromness has been voted a favourite by Classic FM listeners and enjoys frequent airplay.
Customer Reviews
"Farewell to Stromness is an excellent piece, simple in its effect, yet deceptively difficult to play properly. It has a good chance of becoming a sort of Scottish National Anthem with the coverage it gets on Radio. That's fine by me, as it would get rid of Flower of Scotland and Highland Cathedral for good and all! This edition is so good that someone appears to have "borrowed" mine for an indefinite period. Yesnaby Ground is a great challenge to play: a lovely piece, but extremely inticate and complex. I haven't managed to come anywhere near it yet, but I live in hope."
Rating: 5/5 5/3/2006 By: KEITH TAIT
Tell us what you think