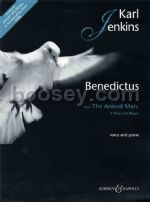 Jenkins, Karl - Benedictus (from The Armed Man) (Voice & Piano)
Instrumentation: Voice, Piano
ISMN 9790060115769
Publisher Boosey & Hawkes (London)
Availability: Stock Title
The popular Benedictus from Karl Jenkins' mass The Armed Man, arranged for voice and piano, as sung by Hayley Westenra on her best-selling album, Pure, which reached No 1 in the UK Classical Charts.

The work is often requested to be sung at funeral and memorial services.
Customer Reviews
"I like very much "Benedictus" of Jenkins. I have discovered that music from my Body balance class and, I have looked for it until I have found it. Sincerely, it is wonderful music. ¡Congratulations! I'm sorry, my english is not a good english, but I have not ocassion for practice it. Sincerely, Gloria"
"The most moving and inspirational piece. stopped me dead in my tracks and lifted me up into the heavens with the deepest feeling of love and hope... I want this played at my funeral as it has all the depth and emotion with such a strong feeling of transformation... Thank you for this amazing gift."
Tell us what you think
---
News stories for this title
"Pure" chart success for Karl Jenkins' The Armed Man!