We are proud to represent the world's leading composers and catalogues from the jazz world.

David Benoit - Noted for his considerable skill as a composer, arranger and conductor. He is credited with shaping and helping to define the contemporary jazz genre. He has had a long association with famed cartoonist Charles Schulz, during which Benoit composed music for various Peanuts TV specials. His works for orchestral arrangement include Kobe (2005) and Dolores Del Carmen (2008) for Spanish guitar and orchestra.

Paquito D'Rivera - World renowned Latin jazz composer and musician. Celebrated by numerous Grammy Awards, including Best Classical Composition for Merengue, written for Yo-Yo Ma. Recent works include Tembandumba (2009) for children's chorus and claves, Conversations with Cachao (2007) for double bass, clarinet/saxophone and orchestra, and Cape Cod Concerto (2011) for clarinet, piano and orchestra.

Andrew Hill - Groundbreaking composer, pianist and ensemble leader. Expanded the jazz genre through "enigmatic harmony, elasticized rhythm, and a multilayered arrangement of texture and pulse," according to the New York Times . His piano arrangements have been published in a special book titled "Andrew Hill: 21 Piano Compositions"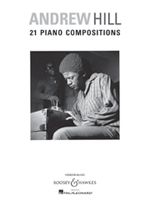 Announcing the first published music by groundbreaking composer/pianist/ensemble leader Andrew Hill (1931-2007).

For purchase information, click here.

For a list of dealers in the US, click here.