Boosey & Hawkes represents a wide range of musicals and shows, light opera and operetta, and music from the movies.

---

Leonard Bernstein is one of the most widely performed composers of the 20th-century whose music successfully bridges the gap between classical and popular idioms. His scores combine jazz-inspired energy, memorable melodies and theatrical panache, nowhere more so than in his works for the musical stage.

Leonard Bernstein's 1944 musical On the Town, originally elaborated from the Jerome Robbins ballet Fancy Free, soon won its place as one of the most popular and successful musicals of all time. Its story of three sailors with only 24 hours to enjoy the delights of New York, combines a racy score by the young Bernstein, with lyrics by Betty Comden and Adolph Green, and choreography by Jerome Robbins. Hit songs include New York, New York, Come Up to My Place, Some Other Time and Lonely Town.

Staged performances of On the Town are licensed by Boosey & Hawkes throughout the world except the United States and Canada and first-class productions in the British Isles. A concert version is also available from Boosey & Hawkes worldwide.


This second theatrical collaboration between Bernstein and lyricists Betty Comden and Adolph Green proved to be another hit on Broadway with Rosalind Russell in the central role. Set in 1950s New York, Wonderful Town tells of two small-town American girls from Ohio who move to a bohemian neighbourhood in Manhattan to pursue their dreams. Though down on their luck, they find the Big Apple soon works its magic through a breathless sequence of musical numbers, including Ohio, It's Love and 100 Ways to Lose a Man.

Staged performances of Wonderful Town are licensed by Boosey & Hawkes throughout the world except the United States and Canada and first-class productions in the British Isles. A concert version is also available from Boosey & Hawkes worldwide.


Crossing the boundaries between opera, operetta and stage musical, Bernstein's Candide journeys through Voltaire's 'Best of all possible worlds' with verve and satirical humour. Over recent decades the work has been staged internationally with great success, attracting star performers, and is now lauded as one of Bernstein's most characteristic theatrical creations. Highlights include the energetic overture and the aria Glitter and Be Gay. A version for concert performance with narrator is also available upon request.

Bernstein's music for JM Barrie's play Peter Pan was adapted and cut beyond recognition for the Broadway production in 1950. Thankfully the score was restored in 2007 with the composer's original instrumental music and songs, and is now available for stage production. Songs include Dream with Me, Who Am I, and Captain Hook's Soliloquy. A 65-minute version with narration for concert performance is also available.

A number of authorised selections with orchestra from Bernstein's most famous stagework, West Side Story, are available from Boosey & Hawkes for concert performance such as:

Concert Suite No.1 (20 mins) emphasizes the love story between Maria and Tony. It contains arrangements for soprano, tenor, and orchestra of the following numbers: Maria; One Hand, One Heart; Somewhere; Balcony Scene.

Concert Suite No.2 (15 mins) includes many of the ensemble numbers with arrangements for  soprano, three mezzo-sopranos, tenor, and two baritones and orchestra of I Feel Pretty; Jet Song; America; Tonight Quintet.

Symphonic Dances (23 mins) is an orchestra-only suite with non-vocal arrangements of music including Prologue; Somewhere; Scherzo; Mambo; Cha-Cha; Meeting Scene; Cool Fugue; Rumble; Finale.

Vocal selections: a restricted number of vocal items with orchestra may also be performed upon application.

---

Our sister company The Rodgers & Hammerstein Organization owns the rights to the world's most popular stage and film musicals. More than 60 years since the legendary partnership of Richard Rodgers and Oscar Hammerstein began, the catalogue is now home to shows of the golden age (Carousel, The King and I, The Sound of Music, Oklahoma!, South Pacific), standards of the Great American Songbook and exciting contemporary talent.

---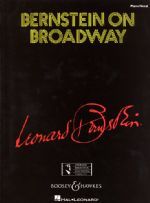 Bernstein on Broadway
Vocal selections

30 hits songs from Bernstein's most popular Broadway works.