We invite you to explore our rich catalogue of vocal music, from song and opera albums, to music by leading vocal composers including Strauss, Britten, Finzi and Rorem.

---

Britten's extensive vocal output embraces opera, song cycles for concerts and folksong arrangements. His works are in the repertoire of solo singers throughout the world.
Folksong Arrangements high / low Sixty folksongs arranged by Britten
Orchestral song cycles  Masterworks score including Les Illuminations
Winter Words Song cycle on texts by Thomas Hardy

Gerald Finzi's songs are among the most accomplished settings of English poetry. His works are lyrical, subtly understated, often elegiac in tone, mingling human pain and natural beauty
Dies Natalis  Song cycle for high voice and strings
Earth and Air and Rain  Song cycle on poetry by Thomas Hardy
Let us Garlands Bring  A delightful collection of five Shakespeare songs

America's leading song composer with a style that is both lyrical and forthright. Vocal works have been performed and recorded by leading artists including Susan Graham, Brian Azawa, Judy Collins, and Carole Farley.
Song Album Vol.1  A collection of Rorem's best songs
Santa Fe Songs  Song cycle for baritone, string trio and piano
Evidence of Things Not Seen  Rorem's magnum opus for 4 soloists and piano 

Richard Strauss was one of the greatest vocal composers of the 20th century, and his oeuvre is particularly rich in music for the soprano voice, from opera to lieder.
Strauss Lieder in three volumes
Der Rosenkavalier  Vocal score of Strauss's most performed opera
Four Last Songs  Masterworks full score of this ever-popular work

by  Aaron Copland
Two volumes of classic American folksongs arranged by Aaron Copland. Features Simple Gifts, I Bought Me a Cat, Ching-a-ring Chaw and Long Time Ago.

Arranged by Margery Hargest Jones
Award-winning bumper collections of folk songs from England, Ireland, Scotland, Wales, The Americas and Christmas. A great resource for both solo singers and classroom singing.

A complete collection from the seven published books of Britten folksong arrangements. The 61 songs have been transposed where necessary to make them suitable for  High and Low Voice editions and the items originally for voice and guitar have been transcribed for voice and piano for these publications.
High Voice / Low Voice

---

From Tchaikovsky to West Side Story and On The Town plus all the operas of the 20th century masters Richard Strauss, Benjamin Britten, Carlisle Floyd and John Adams.

All the major Britten opera arias published in convenient paperback albums for the first time. Essential audition and recital material.

---

From Broadway to the Met. Explore the full range of American vocal music, from musicals to opera.

by Leonard Bernstein
All the hits from this broadway classic. America, Maria, Somewhere, I Feel Pretty and more are available separately and in the West Side Story Vocal Selections album.
New Art Song Albums with English settings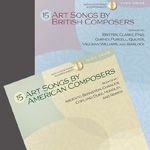 Boosey & Hawkes has released two new collections of Art Songs, 15 songs by American composers, and 15 by British. Both are available in high and low voice.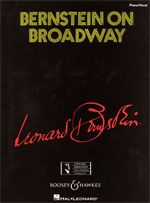 Leonard Bernstein
Bernstein on Broadway
Vocal score


This classic collection of hit songs from Bernstein's Broadway musicals including West Side Story, On The Town and Wonderful Town is  now back in print in a new edition.