Floyd, Carlisle
Prince of Players
(2014-16)
Chamber opera in 2 acts
Duration: 90 minutes
Music Text
Libretto von Carlisle Floyd (engl.)
Scoring
3S,3M,5T,Bar,2BBar,mimes; mixed chorus;
2(II=picc).2(II=corA).2(II=bcl).2(II=dbn)-2.2.0.0-timp.perc:SD/cym/TD/tamb/wdbl-harp-strings
Abbreviations (PDF)
Publisher
Boosey & Hawkes
Territory
This work is available from Boosey & Hawkes in der ganzen Welt.
Uraufführung
3/5/2016
Wortham Theater Center, Houston, TX
Michael Gieleta, Regisseur
Conductor: Patrick Summers
Company: Houston Grand Opera
Roles
| | |
| --- | --- |
| Edward Kynaston | Bariton |
| Thomas Betterton | Bariton |
| Villiers, Herzog von Buckingham | Bassbariton |
| Margaret Hughes | Sopran |
| Lady Meresvale | Mezzosopran |
| Miss Frayne | Sopran |
| Sir Charles Sedley | Tenor |
| Charles II. | Tenor |
| Nell Gwynn | Sopran |
| Hyde | Bassbariton |
| Emilia – männlich | Tenor |
| Emilia – weiblich | Mezzosopran |
| Bühnenarbeiter | Tenor |
| Mrs. Revels | Mezzosopran |
| Raufbolde | stumm |
| Publium im Theater und im Pub, Gäste | Chor |
Time and Place
London im 17. Jahrhundert
Synopsis
PROLOG: Edward Kynaston spielt die Rolle der Desdemona im letzten Akt von Othello, neben Thomas Betterton, dem Intendanten und Schauspieler der Duke's Company, einem anderen gefeierten Theaterstar der damaligen Zeit.
Nach der Vorstellung werden die Schauspieler Charles II. und seiner Mätresse Nell Gwynn, selbst aufstrebende Schauspielerin, vorgestellt. Zwei adelige Damen, die herausfinden möchten, ob Kynaston wirklich ein Mann ist, stellen sich ihm vor und laden ihn zu einem Spaziergang ein. Beim Gehen werden sie von Peg Hughes, Kynastons Garderobiere, voller Verachtung beobachtet – sie schwärmt heimlich für die Bühne und für Kynaston.
Während des nächtlichen Spaziergangs im St. James's Park treffen Kynaston und die Damen auf Sir Charles Sedley, einen bekannten Mäzen, der sie für zechende Prostituierte hält. Kynaston wirft Sedley vulgäre Beleidigungen an den Kopf und macht ihn sich damit für den Rest des Stücks zum Feind.
Auf schwach beleuchteter Bühne arbeitet Kynaston an seiner Gestik und wartet auf seinen Geliebten George Villiers, den Duke of Buckingham. Peg beobachtet ihn, glühend vor Begeisterung. Als sie entdeckt wird, gibt sie vor, noch zu arbeiten, und gesteht ihm schließlich ihren Wunsch, selbst auf der Bühne stehen zu wollen. Villiers erscheint und erkennt in Peg die Schauspielerin wieder, die er am Abend zuvor auf einem kleinen Theater gesehen hat. Beschämt darüber, dass ihr Geheimnis gelüftet wurde, entfernt sie sich eilig. Die Vorstellung, dass Frauen auf der Bühne stehen, schockiert Kynaston. Villiers beschwichtigt ihn und lädt ihn zu einem königlichen Bankett im Whitehall Palace ein.
Im Whitehall Palace sind die Feierlichkeiten zum "Oak Apple Day" (Gallapfeltag) in vollem Gang. Kynaston beobachtet, wie Peg dem König als Schützling Sedleys vorgestellt wird. Nell zeigt sich begeistert darüber, dass Peg die erste Frau auf einer englischen Bühne ist, und Charles II. beschließt, Frauen künftig die Schauspielerei zu erlauben. Kynaston bangt um seine Existenz und fleht den König an, seine Entscheidung zu überdenken; dieser verkündet jedoch den entsprechenden Erlass. —
Betterton probt auf der Bühne. Kynaston beklagt das Ende seiner Karriere. Betterton drängt ihn, künftig Männerrollen zu spielen, und berichtet von dem baldigen Eintreffen von Nell und Peg, die für die Duke's Company vorsprechen möchten. Nell ermutigt den empörten Kynaston, für eine männliche Rolle vorzusprechen. Er versucht es, scheitert und flieht gedemütigt aus dem Theater.
In seiner Londoner Wohnung wartet Villiers auf Kynaston, der verstört und derangiert eintrifft. Er teilt ihm mit, dass sie sich nicht mehr zusammen zeigen dürfen und er in Kürze heiraten wird. Er bietet Kynaston finanzielle Unterstützung an, die dieser jedoch ablehnt. Zum Abschied küsst Kynaston Villiers Stirn und zitiert eine bekannte Passage aus Othello.
Auf der Bühne der Cockpit Tavern: In Frauenkleidern unterhält Kynaston – als "Lüsterne Louise" – das Publikum in einem verruchten Pub. Peg erscheint und bietet ihm an, den Inhaber für seine Entlassung zu bezahlen. Vor der Cockpit Tavern wird Kynaston von einem Schlägertrupp angegriffen. Im Dunkeln erkennt Peg Sedley und ist sich sicher, dass er hinter diesem Angriff steckt. Sie verrät ihn und bringt Kynaston zur Rekonvaleszenz nach Hause.
In Kynastons Quartier: Peg pflegt seine Wunden; ihr Verhältnis ist mittlerweile enger geworden. Er erzählt ihr von seiner traumatischen Vergangenheit, und sie gesteht ihm ihre Liebe. Außerdem beichtet sie ihm, dass ihr sein Sterben als Desdemona missfällt und sie die Szene ändern und Desdemona um ihr Leben kämpfen lassen würde. Durch die plötzliche Intimität erregt, kommen sich beide beim Verlöschen der Lichter näher.
Im Duke's Theatre versucht Betterton verzweifelt, die auf königliches Geheiß angeordnete Vorstellung zu retten. Denn Peg will erst wieder auftreten, wenn Othello – in Gestalt von Kynaston – auf der Bühne erscheint. Betterton bittet um Hilfe, und Kynaston, der sich an sein Gespräch mit Peg erinnert, willigt ein.
Im Duke's Theater versammelt sich das elegante Publikum. Kynaston, in der Rolle des Othello, zieht Peg, seine Desdemona, unter deren Protest aus ihrem Bett. Er wirft sie auf das Bett und erstickt sie mit dem Kissen, während sie schreit, sich wehrt und schließlich "leb wohl" sagt. Das Publikum ist völlig gebannt und befürchtet, aus dem Spiel könnte Ernst geworden sein. Als Kynaston Peg schließlich aufhilft, erklingt von überall her ein lautes "Brava Hughes!" Unter "Bravo Kynaston!"-Rufen beim Verbeugen der Beiden fällt der Vorhang.
Moods
dramatisch, poetisch
Subjects
Recommended Recording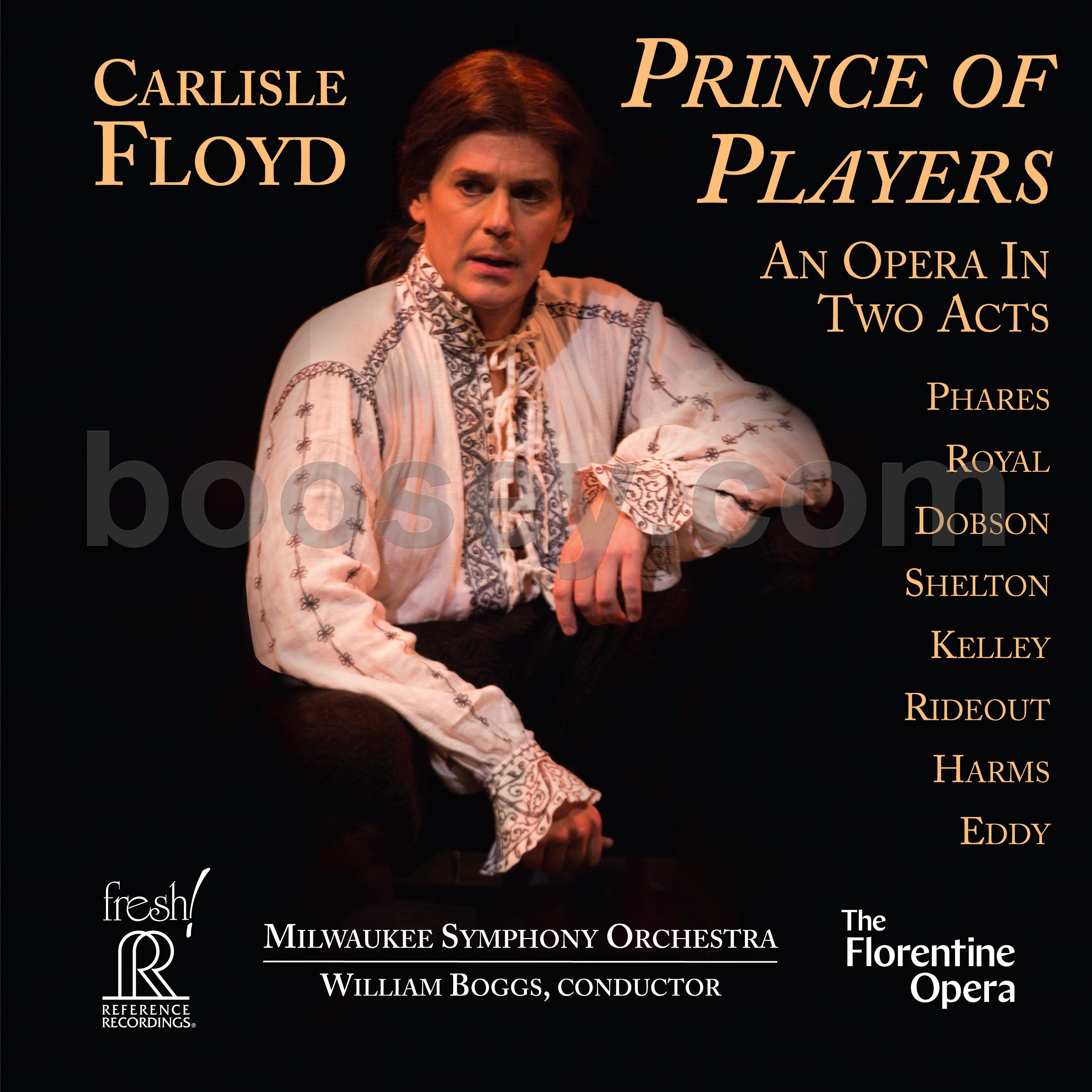 Prince of Players
The Florentine Opera
Milwaukee Symphony Orchestra / William Boggs
Reference Recordings
FR-736
Purchase the album from Presto Music.