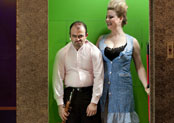 Photo: http://www.fotomalinowski.eu
Offenbach - Link
Das Gift im Lift – warum Orpheus ganz nach unten fuhr
(Poison in the lift)
(1858/2012)
Operetta for children, based on Offenbach's 'Orphée aux Enfers', by Kay Link
Duration: 75 minutes
Music Text
Texto de Kay Link basado en el texto de Hector Crémieux y Ludovic Halévy (Alemán)
Scoring
vln-pft; alternative versions with orchestra or (on request) with salon orchestra;
the work may be performed by professional adult singers or by children/teenagers; a reduced versino for 6-7 singers (instead of 9) is also available
Abbreviations (PDF)
Publisher
Boosey & Hawkes / Bote & Bock
Territory
This work is available from Boosey & Hawkes para el mundo.
Availability
World premiere of version
3/18/2012
Bayer Kulturhaus - Erhohlungshaus, Leverkusen
Kay Link, director
Conductor: Yoshiko Hashimoto
Company: Students of Musikhochschule Köln & soloists
Roles
| | |
| --- | --- |
| ORFEO, maestro de música | Tenor lírico |
| EURIDICE, su mujer | Soprano |
| ARISTEO, pastor, vecino de ambos / PLUTÓN | Tenor lírico |
| LA OPINIÓN PÚBLICA, la conserje | Contralto |
| JÚPITER, padre de los dioses | Barítono |
| JUNO, su mujer | Mezzosoprano |
| MERCURIO, mensajero de los dioses | Tenor lírico |
| VENUS, diosa del amor | Soprano |
| CUPIDO | Soprano |
Synopsis
En la planta baja viven el maestro de música Orfeo y su mujer Euridice, que se están peleando continuamente. Sus infidelidades son más que notorias. Euridice por su parte también tiene un amante, Aristeo, que es nada más y nada menos que el dios de los infiernos, Plutón disfrazado.

No es menos turbulenta la situación arriba, en el "penthouse" compartido de los dioses. Papá Júpiter vive como Dios y tiene además sus líos amorosos correspondientes. Además no ayuda nada en las tareas del hogar, deja a su familia colgada, etc. Todo esto acrecienta el descontento de la familia.

Orfeo se siente herido en su honra masculina y decide tenderle una trampa mortal a Aristeo. Por equivocación cae también en la trampa Euridice. Aristeo se transforma de nuevo en Plutón y se lleva a Eudridice consigo a los infiernos. La opinión pública exige a Orfeo, que en el fonde se alegra de que haya desparecido Euridice, que vaya a buscarla y regrese con ella, como está escrito en la mitología. Por miedo a perder su reputación, decide dirigirse a Jupiter.

Jupiter insiste en la función ejemplar de los dioses y se desplaza con toda su familia, Orfeo y La opinión pública al sotano a buscar a Euridice, ya que Plutón le niega terminantemente el rapto. Mientras todos los demás están de fiesta, encuentra Júpiter a Euridice. En secreto quieren abandonar juntos la fiesta, pero son descubiertos. Júpiter decide que Orfeo puede llevarse a Euridice a casa, pero durante el camino no debe mirar ni una sola vez atrás, pues de lo contrario la perderá para siempre. El se encarga naturalmente de que Euridice se quede. Mientras Euridice y Juno, Plutón y Jupiter se tiran de los pelos, los hijos de los dioses, se hacen con el poder.
Subjects