Photo: Stephanie Schweigert
Offenbach - Keck
La Princesse de Trébizonde (OEK critical edition)
(Die Prinzessin von Trapezunt)
(1869)
Opéra-bouffe in three acts
Duration: 120 minutes
Music Text
Libretto von Charles Nuitter und Etienne Tréfeu; originale dt. Fassung von Julius Hopp; neue engl. Übersetzung von Charles Lamb Kenney (Gesangstexte) & Richard Duployen (Dialoge) (frz., dt., engl.)
Scoring
5S,5T,2B,4speaking roles; chorus;
2(I=picc).1.2.1–2.2.1.0–timp.perc(3)–strings
Abbreviations (PDF)
Publisher
Boosey & Hawkes / Bote & Bock
Territory
This work is available from Boosey & Hawkes in der ganzen Welt.
Availability
Uraufführung
7/31/1869
Kurtheater, Baden-Baden
Conductor: Jacques Offenbach
Company: Singers of the Théâtre des Bouffes-Parisiens, Paris / Kurorchester Baden-Baden
Erstaufführung der Fassung
3/28/2015
Theater, Baden-Baden
Anna Drescher, Regisseur
Conductor: Stanley Dodds
Company: Orchester Akademie & Mitglieder der Berliner Philharmoniker
Roles
| | |
| --- | --- |
| FÜRST KASIMIR | Tenor |
| PRINZ RAPHAEL, sein Sohn | Tenor |
| SPARADRAPP, dessen Erzieher | Sprechrolle |
| CABRIOLO, Direktor einer Seiltänzertruppe | Bassbariton |
| ZANETTA und REGINA, seine Töchter | Soprane |
| PAOLA, seine Schwester | Mezzosopran |
| TREMOLINI, ein Clown | Tenor |
| Lotteriedirektor | Bass |
| Publikum, Landleute | |
Synopsis
Zanetta, Tochter von Cabriolo, dem Direktor einer Gauklertruppe, bricht der berühmten Wachsfigur "Die Prinzessin von Trapezunt" beim Putzen aus Versehen die Nase ab. Um die Einnahmen nicht zu gefährden, muss sich Zanetta selbst als Prinzessin verkleiden und anstelle der Wachsfigur posieren. Der junge Prinz Raphael treibt sich mit seinem Erzieher Sparadrap auf dem Jahrmarkt herum und verliebt sich unsterbl­ich in die "Wachsfigur". Weil er kein Geld dabei hat, hat er seinen Besuch mit einem Lotterie­los bezahlt, das die Gaukler erst später beim Zählen ihrer Einnahmen entdecken. Prompt fällt der Hauptgewinn bei der Ziehung auf das Los der Gaukler. Feierlich lässt die Familie den Jahrmarkt hinter sich und zieht in das gewonnene Schloss.

Aber nach nur wenigen Monaten in der neuen adeligen Heimat langweilen sich die Gaukler um Cabriolo zu Tode. Eine Einladung beim fürstlichen Nachbarn bleibt aus, doch Raphael begegnet auf einer Jagd zufällig den Gauklern. Sofort erkennt er seine "Prinzessin" Zanetta wieder. Auch sie hat den Prinzen nicht vergessen. Nach der Rückkehr ins Schloss beichtet Raphael seinem Vater Fürst Kasimir seine neue Liebe zu einer "Wachsfigur". Dieser sieht in der Puppe eine günstige Gelegenheit, seinen Sohn zu bändigen. Cabriolo verkauft Kasimir das gesamte Wachsfigurenkabinett und zieht mit Zanetta und seiner restlichen Truppe glücklich als Oberverwalter der fürstlichen Museen an den Hof. Raphael entdeckt, dass seine Liebe zu Zanetta von ernsterer Art ist. Als die Fürstenfamilie wieder zu einer Jagd aufbrechen möchte, bleibt Raphael unter dem Vorwand von Zahnschmerzen bei den Gauklern zurück. Er verabredet sich mit seiner Zanetta zum heimlichen Stelldichein und trifft dort zur allgemeinen Verwirrung auf die weiteren Liebespaare: die Gaukler Regina und Tremolini sowie den Erzieher Sparadrap, der sich in Cabriolos Schwester Paola verguckt hat. Cabriolo überrascht die Paare, schließt sich dann aber wohlgestimmt einem Festmahl an. Fürst Kasimir kehrt früher als erwartet von der Jagd zurück und unterbricht das fröhliche Treiben. Sein Sohn überrascht ihn mit einem alten Tagebuch, dem Kasimir seine schwärmerische Liebe zur Akrobatin "Stahlfeder" anvertraut hat. Der Vater lenkt ein. Einer Vereinigung der beiden Familien steht nun nichts mehr im Wege.
Repertoire Note
So harmlos und übermütig die Handlung auch sei, sie wurzelt doch in einer glücklichen Grundidee: eine arme, fröhliche Seiltänzergruppe, welche plötzlich zu Reichthum gelangt, aber die Sehnsucht nach dem alten Vagabundenleben nicht bezwingen kann. Eine morgenfrische Realistik durchweht die Schilderung der armen, flitterbehängten Gauklertruppe, welche wir beim Aufziehen des Vorhangs in Thätigkeit sehen. Hierauf als ergötzliches Gegenstück der zweite Akt: die Villa mit prächtigem Schloßgarten, darin die ganze Seiltänzerfamilie mit lächerlicher Eleganz ausstaffiert als neue "Herrschaft" stolziert. Trotz des Überflusses langweilen sich die guten Leutchen entsetzlich. "Glaubst Du, Papa", sagt Regina zu dem sich auf den Kavalier spielenden Alten, "ich hätte es nicht bemerkt, wie Du nachts in den Garten schleichst, um Purzelbäume zu schlagen? Und bist du nicht erst gestern auf die zum Wäschetrocknen aufgespannten Stricke geklettert und hast dann in der Küche heimlich Feuer gefressen?"
Eduard Hanslick
Press Quotes
"Es gibt Stücke, die kann man nicht erzählen. Aber umso besser spielen. Offenbach, der brillante Musiksatiriker des 19. Jahrhunderts und Urahn des Dadaismus hat nicht wenige davon ver­fasst. Zum Beispiel Die Prinzessin von Trapezunt, vom großen Wiener Literatur- und Theaterkenner Karl Kraus als eines der besten Werke Offenbachs gepriesen. Die Ausgrabung am Uraufführungsort lässt nachvollziehen, weshalb. Im Gewand blühenden Blödsinns verhandelt die Komödie menschliche Fehlbarkei­ten ... Von der entzückenden, typisch Offenbach'schen Musik, die irgendwann mit dem obligatorischen Cancan auf den Tanz auf dem Vulkan zusteuert, ganz zu schweigen." (Alexander Dick, Badische Zeitung, 31.03.2015)
Subjects
Recommended Recording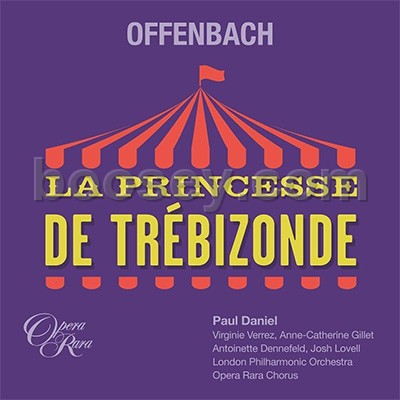 Virginie Verrez, Anne-Catherine Gillet, Antoinette Dennefeld, Katia Ledoux, Josh Lovell, Christophe Gay, Christophe Mortagne, Loïc Félix / Opera Rara Chorus / London Philharmonic Orchestra / Paul Daniel
Opera Rara ORC63
Links