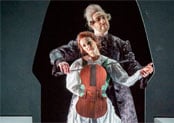 Photo: Rupert Larl
WP Innsbruck 2016, Paula Fünfeck dir.
Biber - Brüning
Himmelsgeigen und Höllenfeuer ()
(Heavenly violins and infernal flames)
Duration: 120 minutes
A Baroque opera-pasticcio for the young and the old
Libretto von Paula Fünfeck (dt.)
Scoring
2S,M,CT,Bar,3B; speaking role; mixed chorus; children's chorus; mimes; dancers;
3rec.2ob.bn-2tpt.3trbn-timp-perc(1):drums/bells/xyl-hpd-strings (if possbile, the recorders should be played by children)
Abbreviations (PDF)
Uraufführung
6/4/2016
Tiroler Landestheater, Großes Haus, Innsbruck
Paula Fünfeck, Regisseur
Conductor: Anna-Sophie Brüning
Company: Tiroler Landestheater
Roles
| | |
| --- | --- |
| Amor / Jakob als Knabe / Kind | Sopran (möglichst ein Kind) |
| Jakob Stainer, Geigenbauer | Bariton |
| Margareta, dem Kantor anverlobt, später mit Jakob verheiratet / Tanne | Sopran |
| Veith Schnauz alias Flatus Lenz, Kantor | Bass |
| Franz von Klatten, die Ratte | Counter / falsettierende Rolle Kantor |
| Meister Vendone, venezianischer Gegenbaumeister | Bass (als Doppelbesetzung von Glaube oder Kantor) |
| Glaube / Heinrich Ignaz Franz Biber, Geigenvirtuose und künftiger Opernkomponist | Bass |
| Hoffnung / Valentina, liebestolle Tochter von Vendone | Mezzosopran |
| Chorknaben, venezianische Bettelkinder, Jakobs Kinder, Rattenkinder | Kinderchor |
| Saufgesellschaft, Spieß- und Schießgesellschaft, Paradies- und Genießgesellschaft | Chor |
| Der Tod / Der Nachtwächter | Sprechrollle |
| zwei Soldaten sowie ein Paar von Mann und Frau | Statisten, Tänzer |
Synopsis
Aufgrund des herrschenden Krieges ist Gott Amor arbeitslos, für seine Liebespfeile gibt es schlichtweg keine Ziele. Stattdessen spielt der Tod den Soldaten auf seiner Geige zum letzten Tanz auf. Als Amor ihm zufällig begegnet, stiehlt er ihm die Geige; selbst vergisst er jedoch seinen eigenen Bogen, der dem Tod nun aber weitaus nützlicher ist, als es das Instrument war.

In der Innsbrucker Hofkirche warten die Chorknaben, unter ihnen Jakob, auf die Taufe des kleinen Fürsten Ferdinand Karl von Österreich. Jakob verstimmt absichtlich die Geige des Kantors. Als er ihn während der Chorprobe darauf aufmerksam macht, weil der es selbst nicht merkt, verdonnert ihn der Kantor zum Vorspiel: für Jakob ein Kinderspiel, mit Leichtigkeit stimmt er die Geige neu und meistert die Aufgabe mit Bravour. Versehentlich fällt der kleine Fürst ins Taufbecken, das verursacht einige Aufregung. Am Ende der Taufe verlassen alle glücklich die Kirche – bis auf den fluchenden Kantor, dessen Gehrock Jakob während des Tumultes an der Kirchenbank festgenagelt hat …

Jakob versucht sich als Geigenbauer, doch so richtig will ihm nichts gelingen. Bis ihn seine Nachbarin Margareta besucht: Jakob ist augenblicklich nicht nur von Amors Pfeil getroffen – in Margareta findet er auch das perfekte Vorbild für seine Geige. Dumm nur, dass Margareta von ihrem Vater bereits dem Kantor zur Frau versprochen wurde. Die aber schert sich nicht darum, lässt den Kantor stehen und flüchtet sich zu Jakob, der den eifersüchtigen Kantor aus dem Fenster mit einem Eimer Wasser übergießt. Spätestens jetzt besteht zwischen den beiden eine unverbrüchliche Feindschaft.

Neue Soldaten werden geworben. Der Kantor macht das Rekrutierungskommando auf Jakob aufmerksam. Margareta, die von Jakob inzwischen schwanger ist, verhilft ihm zur Flucht. Jakob will nach Venedig, da es dort keinen Krieg, aber gute Geigenbauer gibt. Einer davon ist Meister Vendone. Er nimmt Jakob aber nur unter einer Bedingung als seinen Meisterschüler an: Da er nichts für seine Ausbildung bezahlen kann, soll Jakob seine Tochter Valentina heiraten, sobald diese von ihrer weiten Reise zurückgekehrt sei. Jakob hat Albträume, in denen ihm Margareta erscheint und ihm schwer enttäuscht die schlimmsten Vorwürfe macht. Jakob kann sich vor der Liebestollwut der zurückgekehrten Valentina gerade noch retten und aus dem Staub machen.

Es ist viel Zeit ins Land gegangen, Margareta und Jakob haben schon mehrere Kinder, nur der Krieg ist noch nicht vorbei. Dem Glauben und der Hoffnung fehlt die Zuversicht. Margareta und Jakob erwarten sehnlichst die Ankunft des Geigenvirtuosen Biber, denn er will Jakobs Geigen kaufen. Freimütig äußert Jakob ihm gegenüber seine unerlaubten protestantischen Ansichten und findet in Biber einen Gleichgesinnten. Der Kantor jedoch hat die Gespräche der beiden belauscht und trommelt den Mob zusammen; er beschuldigt Jakob der Ketzerei. Tatsächlich findet man in seinem Haus eine verbotene Lutherbibel. Zur Strafe sollen Jakobs Geigen verbrannt werden, doch Biber konnte unbemerkt bereits alle in Sicherheit bringen. Jakob wird in den Kerker geworfen, sein Geist verwirrt sich allmählich. Der Tod bedroht ihn und erkennt in ihm Amor, den Geigendieb. Er bietet ihm seine Zusammenarbeit an, die Jakob aber ablehnt. Glaube, Liebe und Hoffnung singen ein Loblied auf Jakob, der mit seinen Geigen die Schönheit in die Welt des Dreißigjährigen Krieges brachte.
Subjects
Geschichte, Musik/Künste, Zauberei/Geheimnis