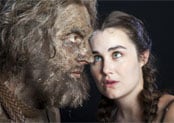 Photo: James Matthew Daniel, used courtesy of BMP
Little, David T
Opera in three acts for 6 singers, 1 actor and amplified chamber ensemble
Duration: 127 minutes
Music Text
Libretto von Royce Vavrek nach der Kurzgeschichte von Judy Budnitz (engl.)
Scoring
2S,M,2T,Bar,actor;
cl(=bcl)-perc(2)-pft-elec.gtr-vln-vla-vlc-db
NOTE: The hiring of a sound designer is a condition/requirement for permission.
Abbreviations (PDF)
Publisher
Boosey & Hawkes (Hendon Music)
Territory
This work is available from Boosey & Hawkes in der ganzen Welt.
Availability
Uraufführung
9/29/2012
Alexander Kasser Theatre, Montclair, NJ
Robert Woodruff, Regisseur
Conductor: Alan Pierson
Company: Beth Morrison Projects
Roles
| | |
| --- | --- |
| LISA | Sopran |
| MUTTER | Sopran |
| PAT | Tenor |
| ELLIOT | Tenor |
| VATER | Bariton |
| Offizier | Mezzosopran |
| PRINCE | Schauspieler/Tänzer (ohne Gesang) |
Synopsis
Infolge eines Krieges versinkt das Land im Chaos. Die Straßen sind, außer fürs Militär, gesperrt. Arbeit gibt es nicht mehr. Nach und nach schließen alle Schulen. Die Lebensmittel gehen zur Neige. Der Strom wird abgeschaltet. Nachbarn verschwinden auf rätselhafte Weise.

Die obdachlos Gewordenen betteln vor den Türen derjenigen, die ihr Haus noch haben, doch niemand hat etwas abzugeben. Eine fünfköpfige Familie – Eltern, zwei Söhne und die junge Tochter Lisa – tun, was sie können, um zu überleben. Sie essen wildes Gras aus dem Garten. Der Vater geht jeden Tag jagen, doch alle Tiere sind geflohen. "Sie wissen etwas, was wir nicht wissen", erklärt er.

Eines Tages erscheint ein Mann in einem Hundekostüm. Lisa freundet sich mit ihm an; er ist ihr eine Flucht aus dem hoffnungslosen Einerlei ihres Lebens. Lisas Mutter befürwortet die Freundschaft. Für sie ist Prince wie ein Haustier. Lisas Vater Howard ist dagegen, er stellt Prince zur Rede. "Steh auf", sagt er. "Du bist ein Mensch, Herrgott nochmal. Steh auf wie ein Mann – Ich gebe dir meine Anziehsachen, wenn du aufstehst wie ein Mann und zu mir redest. Ich weiß, dass du sprechen kannst." Prince bellt; Howard jagt ihn fort.

Die Lage verschlechtert sich. Es ist Winter geworden. Es wird früh dunkel und kalt. Die Familie hat seit Wochen, vielleicht Monaten nichts gegessen. "Ich wünschte, ich hätte ein Steak", sagt einer der Brüder, worauf der andere bemerkt: "Ich habe gehört, in China essen die Leute Hunde." Es wird still im Raum. Howard erhebt sich und nimmt sein Gewehr. "Wo gehst du hin? Howard – nicht – nicht –", sagt die Mutter. "Er ist ein Mann, Howard! Ein Mann! Du kannst ihn nicht –", schreit sie. "Er ist ein Hund", antwortet Howard. "Er ist ein Tier." Lisa versucht sie aufzuhalten, doch sie kommt zu spät. Sie erreicht die anderen erst, als der Vater und die Brüder schnaubend über Prince herfallen.
Moods
dramatisch, poetisch
Subjects
Recommended Recording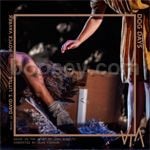 James Bobick/Marnie Breckenridge/Cherry Duke/John Kelly/Michael Marcotte/Peter Tantsits/Lauren Worsham/Newspeak/Alan Pierson

Via Records (digital release)
Buy the recording from iTunes
Links