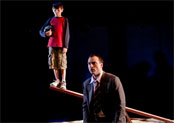 Photo: Jill Steinberg. Used courtesy of Beth Morrison Projects
Little, David T.
for baritone and amplified septet
Duration: 60 minutes
Music Text
Text zusammengestellt vom Komponisten aus Interviews mit Kriegsveteranen (engl.)
Scoring
Bar; fl(=picc,afl,perc).cl(=bcl,perc)-perc(2)-pft-vln.vlc (all instrumentalists doubling voice); tape
NOTE: The hiring of a sound designer is a condition/requirement for permission.
Abbreviations (PDF)
Territory
This work is available from Boosey & Hawkes der ganzen Welt.
Roles
Synopsis
Eindrückliche Studie über die Kriegserfahrung eines Vietnam-Veteranen und den alltäglichen Militarismus. Für Bariton und Septett, mit dokumentarischem Interview-Material.
Soldier Songs spürt der Veränderung in der Wahrnehmung des Krieges nach, sowohl in unserer Gesellschaft als auch bei denen, die den Krieg erleben. Das Stück folgt dem namenlosen Soldaten durch drei Phasen seines Lebens: Jugend (Kriegsspiele), Krieger (Militärdienst) und Älterer (gealtert, klug, nachdenklich).