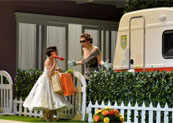 Photo: Marc Ginot
Offenbach - Keck
Geneviève de Brabant (OEK critical edition: 1867 version)
(1859/67)
Opéra-bouffe in three acts
Duration: 180 minutes
Music Text
Livret d' Hector Crémieux and Étienne Tréfeu (Français)
Scoring
2(I,II=picc).1.2.1-2.2.1.0-timp.perc(2):gslp/SD/tgl/tamb/BD/cyms-strings
Abbreviations (PDF)
Publisher
Boosey & Hawkes Bote & Bock
Territory
This work is available from Boosey & Hawkes for the world.
World Premiere
11/19/1859
Théâtre des Bouffes-Parisiens, Paris
Company: Théâtre des Bouffes-Parisiens
World premiere of version
12/26/1867
Théâtre des Menus-Plaisirs, Paris
Company: Théâtre des Menus-Plaisirs
World premiere of version
3/16/2016
Opéra Berlioz, Le Corum, Montpellier
Carlos Wagner, director
Conductor: Claude Schnitzler
Company: Solistes & Chœur de l'Opéra national et Orchestre national Montpellier Languedoc-Roussillon
Synopsis
Sifroy, duc de Curaçao, mari de la belle Geneviève de Brabant, ne peut avoir d'héritier. Le petit pâtissier Drogan, amoureux de la belle dame, confectionne un pâté qui, soi-disant, doit redonner vigueur au défaillant époux. Il peut ainsi s'approcher de Geneviève dont il espère devenir le page. Mais le traître Golo, favori de Sifroy, veille… Bien décidé à prendre le pouvoir, il se livre à toutes sortes d'intrigues.

Sifroy se remet difficilement d'une indigestion de pâté lorsque Golo lui annonce que sa femme le trompe. Justement une ombre se dessine derrière la vitre. Ce doit être ce coquin de Drogan ! Vite un seau d'eau… Catastrophe ! Le quidam arrosé n'est autre que Charles Martel, le puissant souverain, qui s'en va en Palestine combattre les Sarrasins. À la suite de quoi, Sifroy est enrôlé pour la croisade.Il n'a que le temps de répudier son épouse qui s'enfuit dans la forêt avec Drogan et sa confidente Brigitte. Le trio est poursuivi par le sergent Grabuge accompagné du sieur Pitou. Grâce à un ermite, on apprend qu'en réalité Sifroy s'en est allé festoyer avec Charles Martel en son château d'Asnières. Drogan se rend à Asnières et annonce au duc le décès de son épouse. Retour de Sifroy sur ses terres pour démasquer le traître Golo prêt à usurper le pouvoir. Geneviève, qui, bien entendu, est toujours vivante, et Drogan sont réhabilités.
Moods
Comic, Poetic, Romantic
Subjects