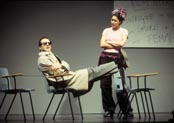 Photo: Mike Hoban
Lunn, John
An opera in four acts
Duration: 100 minutes
Music Text
Libretto von Stephen Plaice (engl.)
Scoring
Professional roles: S,T,Bar,B;
Children's main roles: 3 girls,2 boys;
Youth chorus;
2.1.corA.2.bcl.2asax.t.sax.2-4.3.3.1-timp.perc(2):glsp/vib/2susp.cym/BD/bell-tree/congas/bongos/
claves-drum kit-harp-elec.gtr-elec.bass gtr-strings
Abbreviations (PDF)
Publisher
Boosey & Hawkes
Territory
This work is available from Boosey & Hawkes in der ganzen Welt.
Availability
Uraufführung
3/1/2000
Glyndebourne
Stephen Langridge, director/Stephen Plaice, text/Conor Murphy, designer
Conductor: James Morgan
Company: children from Sussex schools/Brighton Youth Orchestra
Roles
| | |
| --- | --- |
| CASEY FLOOD, Privatdetektiv | Bariton |
| SOPHIE LAVALLE, Filmstar | Sopran |
| FELIX, ein gutaussehender Typ | Junge |
| JOJO, eine Barmixerin | Sängerin |
| GEMMA, ein Möchtegernstar | Mädchen |
| LUKE, ein Bassist | Junge |
| ZOE, ein geheimnisvolles Mädchen | Mädchen |
| MR. TRAHERNE/RICHTER, Dozent für Filmwissenschaft und Staatsbürgerkunde | Tenor |
| DR HERKOMER, ein Genetiker | Baß |
| Studenten, Umweltaktivisten, Klone von Zoe und Sophie, Juroren, Publikum im Gericht, Gerichtsangestellte, Polizisten, Gefängnisbeamte | Jugendchor |
Time and Place
England, in der Gegenwart
Synopsis
Sophie Lavalle, ein ehemaliger Filmstar, heuert Privatdetektiv Casey Flood an, damit er ihr bei der Suche nach der Tochter hilft, die sie vor 18 Jahren formal adoptiert hat. Alles, was sie hat, sind Fotos eines heranwachsenden Mädchens, die sie Jahr für Jahr mit dem Vermerk "ihr Geburtstag" zugeschickt bekommt. Das Mädchen sieht haargenau wie sie aus. Indem Flood sich als Talentsucher für eine Plattenfirma ausgibt, entdeckt er Zoe Herkomer, die ihrer Mutter wie aus dem Gesicht geschnitten ist, in einem Gymnasium in Adambridge, wo sie ihren Mitschülern Luke und Felix ebenso den Kopf verdreht hat wie ihrem Filmwissenschaftsdozenten Mr. Traherne. Felix lädt sie ein, als Sängerin bei seiner Band The Mains mitzumachen – ihr Debüt verläuft erfolgreich. Im Anschluß an den Auftritt bringt Luke sie nach Hause. Dort ist unterdessen Flood mit Sophie Lavalle aufgetaucht, um die Wahrheit herauszufinden. Zoes Vater ist Gentechniker, ihre Mutter ist bei ihrer Geburt gestorben. Es stellt sich heraus, daß Dr. Herkomer früher Sophie vergöttert und einmal eine Locke von ihr ergattert hat. Daraus hat er Zoe geklont. in diesem Augenblick erscheint Zoe.
Zwei Jahre später lebt Zoe mit Mr. Traherne zusammen. In den Nachrichten im Fernsehen erkennt sie Luke, der als Umweltaktivist gegen das Treiben von Dr. Herkomer protestiert. Sie macht bei einem Überfall auf die Firma ihres Vaters mit, bei dem Herkomer versehentlich getötet wird. Zoe kommt vor Gericht und muß lebenslänglich hinter Gitter. Fünf Jahre später besucht der eben aus der Haft entlassene Luke sie in Holloway. Es zeigen sich die Folgen des Klonens: Zoe ist erschreckend gealtert. Zusammen nehmen die beiden Gift. Einige Zeit nach Zoes Beerdigung kommt ein junges Mädchen namens Emilia Smith in Casey Floods Büro. Sie ist Zoes Klon und will mit seiner Hilfe ihre Mutter finden...
Subjects
Links