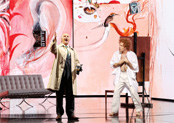 Photo: Prudence Upton
Kats-Chernin, Elena
Opera in two acts
Duration: 110 minutes
Music Text
Libretto by Justin Fleming (E)
Scoring
major roles:2S,M,T,Bar,B; minor roles:3S,2M,3T,3Bar; mixed chorus; actors;
2(II=picc,afl).2(II=corA).2(II=bcl).asax.2-4.2.3.1-timp.perc(3)-harp-pft-strings
Abbreviations (PDF)
World Premiere
7/15/2019
Joan Sutherland Theatre, Sydney Opera House, Sydney
David Freeman, director
Conductor: Tahu Matheson
Company: Opera Australia Orchestra and Chorus
Roles
| | |
| --- | --- |
| Brett Whiteley | Baritone |
| Wendy Whiteley | Soprano |
| Arkie Whiteley | Soprano |
| Beryl Whiteley | Mezzo-soprano |
| Joel Elenberg | Bass |
| Dark Figure / Michael Driscoll | Tenor |
| Patrick White | Tenor |
| Queen Mother | Soprano |
| Robert Hughes | Baritone |
| Bryan Robertson | Tenor |
| John Rothenstein | Baritone |
| Frank Lloyd | Tenor |
| Anna Schwartz | Soprano |
| Biennale Judge | Mezzo-soprano |
| Fijian Backpacker | Soprano |
| Fijian Police Officer | High Baritone |
| Janice | Soprano |
Synopsis
From school days, Beryl sees Brett's talent at painting.
Brett meets Wendy. They go to Europe to experience Art in its original setting, and honeymoon in Sigean. Brett is enraged by the absence of Australian art.
Brett pays homage to three heroes: Charles Baudelaire, Piero della Francesca and Francis Bacon – all addictive personalities.
In London, Brett is the youngest artist to sell to the Tate.
In the pub, the Barman challenges Brett to delve into the dark side, giving him a substance to help his journey starting at the site of the Christie murders.
After failing in America, Brett, Wendy and Arkie go to Fiji but are expelled for possession of opiates.
Back in Australia, they settle in Lavender Bay. Michael Driscoll introduces them to heroin. Wendy and Michael become lovers.
Brett introduces Patrick White to Joel Elenberg, a neighbour at Lavender Bay.
Brett tries to visit Fiji, but is refused entry.
Brett makes history by winning three major art prizes.
They take Joel to Bali to spend his last days.
Back in Lavender Bay, Brett shows the worst symptoms of addiction. Wendy asks if he still has artistic vision?
Critics and others turn against Brett. Wendy and Brett part.
Brett tries to withdraw from the drug dependency in a Japanese Zen Garden.
Brett is now in a relationship with Janice Spencer. Brett's mother tells him he'll be honoured with the Order of Australia. Arkie is horrified to find Brett back on the drugs.
Brett goes to a motel to control his addiction by sedation. He fatally overdoses. Beryl laments her dead son.
Wendy creates her own work of art – the Secret Garden in front of the house in Lavender Bay – celebrating the Whiteley legacy against the luminous power of the harbour.
Justin Fleming © 2019
Press Quotes
"...inventive orchestration, kinetic rhythms, evocative yet slightly astringent sound-world and quirky character... the dazzling succession of images reminded us of the sheer brilliance and imaginative breadth of Whiteley's talent... a stimulating, rewarding and moving tribute to a remarkable Australian artist."
The Australian
"The score is exceptional. Pay close attention to the instrumentation, one of the opera's most striking features: always unexpected, lively tipping into manic, yet joyous and inspired – an exciting reflection of Whiteley and his art. Kats-Chernin moves imaginatively through a huge range of musical styles, and each musical turn is unexpected and adventurous ... What the audience experiences is actually an energetic pacing of Whiteley's life which makes Whiteley a multimedia opera for the times. Fleming's words are as lively and enriched as Kats-Chernin's music ... a wonderful piece of Australian art in tribute to a great Australian artist."
Backtrack
"Kats-Chernin's finely-crafted score of variegated mood, texture, tone and style... an opera not only about genius but also about the troubled birth of something new in Australian artistic consciousness, in which it became relaxed in its sensuality, transfigured by its beauty and deeply troubled by inner contradictions... This was an opera about Sydney…"
Sydney Morning Herald
"A rich, dramatic overture sets the scene and in Act 1 there are two extraordinary love duets ... A huge undertaking that clearly shows how a brilliant composer can write for the occasion. No wonder Miss Kats-Chernin got her own standing ovation at the end ... Not an easy score to play, with so many changes of rhythm, but performed beautifully ... clearly nearly all the audience were just as mesmerised and entranced by the work as this critic. A stunning triumph for Opera Australia."
J-Wire
Subjects
Contemporary, Music/Arts