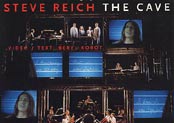 Photo:
Reich - Korot
Audio-visual music theatre work
Duration: 122 minutes
Music Text
Torah, the Koran (Arabic) and documentary material
Scoring
vocal quartet: 2lyrS,T,Bar
2woodwind(fl,ob,corA,cl,bcl)-perc(4):vib/marimba/BD/kick drums/claves-3kbd(pft,sampler,computer kbd)-strings(1.1.1.1.0)
REQUIRES SOUND DESIGN AND AMPLIFICATION
Abbreviations (PDF)
Publisher
Boosey & Hawkes (Hendon Music)
Territory
This work is available from Boosey & Hawkes in der ganzen Welt.
Availability
Uraufführung
5/15/1993
Messepalast, Vienna
Beryl Korot, video / Carey Perloff, director
Conductor: Paul Hillier
Company: Steve Reich Ensemble
Time and Place
Akt: Westjerusalem/Hebron, Mai/Juni 1989; 2. Akt: Ostjerusalem/Hebron, Juni 1989 und Juni 1991; 3. Akt: New York/Austin, April/Mai 1992
Synopsis
In der Bibel kauft Abraham eine Höhle von Ephron dem Hethiter für die Bestattung seiner Frau Sara. Die Höhle der Patriarchen, wie man sie im Lauf der Zeit nannte, wurde nicht nur Saras letzte Ruhestätte, sondern auch die Abrahams und seiner Nachkommen. In mystischen jüdischen Quellen taucht die Höhle auch als Durchgang zum Garten Eden auf. Es heißt, daß Adam und Eva dort begraben sind. Der Höhle, die in der größtenteils arabischen Stadt Hebron liegt, besitzt auch für Moslems enorme religiöse Bedeutung, da sie ihre Abstammung ebenfalls auf Abraham zurückführen, und zwar über seinen Sohn Ismael, den Sohn Hagars, Saras Magd. Seit dem 12. Jahrhundert steht eine Moschee an der Stätte. Auch wenn die Spannungen bestehen bleiben, ist dieser Ort der einzige auf der Welt, den sowohl Juden als auch Moslems verehren.

In jedem Akt dieser dokumentarischen Video-Oper stellen Reich und Korot ihren Gesprächspartnern die gleichen grundsätzlichen Fragen: Was bedeutet Abraham für Sie? Was bedeutet Sara für Sie? Was bedeutet Hagar für Sie? Was bedeutet Ismael für Sie? Im ersten Akt befragen sie Israelis, im zweiten Palestinenser und im dritten Amerikaner.
Subjects
Recommended Recording
Cheryl Bensman, Marion Beckenstein, James Bassi, Hugo Munday, Leslie Scott, Al Hunt, Elizabeth Lim, Todd Reynolds, Scott Rawls, Jeanne Leblanc, Nurit Tilles, Edmund Niemann, Philip Bush, Bob Becker, Russell Hartenberger, Garry Kvistad, Thad Wheeler, conducted by Paul Hillier
Nonesuch 7559793272

Buy this CD from our Online Shop
Links