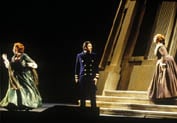 Photo: Dan Rest
Levy, Marvin David
Mourning Becomes Electra
(1967, revised 1998-2002)
Lyric tragedy in three acts
Duration: 150 minutes
Music Text
Libretto by Henry W Butler after the play by Eugene O'Neill (E,G)
Scoring
dramS,lyrS,S,heldBar,Bar,lyrBar,BBar,B; chorus
ORCHESTRA:2.picc.2.corA.2.bcl.2.dbn-4.3.2.btrbn.1-timp-perc**(3-4):BD/tpl.bls/ratchet/tam-t/sleigh bells/TD/tgl(L)/whip/susp.cym/tom-t/sizzle cyms/SD/chimes/bongos/tamb/crash cyms/roto-toms(6",8",10")/wdbl(S)/guiro/chinese bell tree-harp-gtr-ekybd samplers*-strings:(12.10.8.6.4)
BANDA:2tpt.ttrbn.btrbn
electronic keyboard*: Kurzweil K2000 or K2500SX w/ Orchestral ROM updates. Other samplers acceptable, but pre-programmed disk, providing cues in consecutive order to facilitate players' immediate accessibility to one cue after another w/o having to search for the patch number, is available only for the Kurzweil.
percussion**:with some doubling and, depending on space and budget and some instrument duplication, the part can be performed by 3/4 players
production notes: 8 Characters (plus Supernumeraries), 4 Stage sets: facade of Mannon house, bedroom, parlor with adjoining study, upper and lower decks of Brant's ship, 1998. Chicago Lyric sets and costumes, rental available; Seattle and New York City Operas, 2003-2004 new co-production sets and costumes rental available.
NOTE: This work requires additional technological components and/or amplification.
Abbreviations (PDF)
Uraufführung
3/17/1967
Metropolitan Opera House, New York, New York
Michael Cacoyannis , Regisseur
Conductor: Zubin Mehta
Company: The Metropolitan Opera
Erstaufführung der Fassung
10/18/2003
Marion Oliver McCaw Hall, Seattle
Bartlett Sher, Regisseur
Conductor: Richard Buckley
Company: Seattle Opera
Roles
| | |
| --- | --- |
| CHRISTINE MANNON | Dramatischer Sopran |
| LAVINIA MANNON | Dramatischer Sopran / Spinto |
| ORIN MANNON | Hoher Bariton |
| KAPITÄN ADAM BRANT | Dramatischer Bariton |
| GENERAL EZRA MANNON | Baß |
| HELEN NILES | Lyrischer Sopran |
| HAUPTMANN PETER NILES | Lyrischer Bariton |
| JED | Baß |
| Soldaten, Diener, Leute aus der Stadt, Seeleute, Hafenarbeiter, Feldarbeiter | |
Time and Place
Eine kleine Stadt in Neuengland, Frühling und Sommer in den Jahren 1865-66
Synopsis


Ezra Mannion kehrt aus dem Bürgerkrieg zurück. Seine Frau Christine hatte in der Zwischenzeit eine Affäre mit einem Kapitän, Adam Brant. Ezras Tochter Lavinia haßt ihre Mutter und weiß von der Affäre. Später unterrichtet Christine Brant von ihrem Vorhaben, Ezra umzubringen. Als sie eines Abends mit ihrem Mann zusammensitzt, gibt sie ihre Liebesbeziehung zu – in der Hoffnung, daß er daraufhin einen Herzinfarkt bekommt. Auf die Bitte, ihm sein Medikament zu geben, reicht sie ihm Gift. Lavinia hört mit, wie er im Sterben Christine beschuldigt, ihn vergiftet zu haben.

Als Orin, Lavinias Bruder, von Krieg heimkehrt, berichtet sie ihm von der Vergiftung. Orin schwört Rache auf den Tod seines Vaters. Die beiden folgen Christine zu einem Treffen mit Brant auf seinem Schiff und hören, wie sie ihm von der Ermordung Ezras erzählt. Als Christine das Schiff wieder verläßt, ersticht Orin Brant. Am folgenden Morgen teilt Orin seiner Mutter mit, daß Brant tot ist, worauf sie sich erschießt. Lavinia bietet sich selbst ihrem Bruder dar.

Ein Jahr später kehren Lavinia und Orin von einem langen Urlaub in den Tropen zurück. Lavinia ist erholt, doch an Orin nagen die Schuldgefühle. Lavinia treibt ihn in den Wahnsinn, bis er sich schließlich mit der Waffe, die sie ihm gibt, erschießt. Auch Lavinia verfällt daraufhin dem Wahnsinn. Alleine geht sie in ihr Haus zurück.
Moods
dramatisch, tragisch