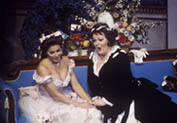 Photo: Courtesy Lyric Opera of Kansas City
Beeson, Jack
Captain Jinks of the Horse Marines
(1975)
A romantic comedy in music in three acts
Duration: 120 minutes
Music Text
Libretto by Sheldon Harnick after the play by Clyde Fitch (E)
Scoring
lyrcolS,dramS,S,M(plays piano),3T,lyrBar(plays violin),BBar,7B;
chorus
2(I=picc,II=picc,afl).2(II=corA).2(II=bcl,Ebcl).2-2.2crt.0.euph.1-
timp.perc(1):BD/cym/SD/4tom-t/tamb/glsp/2tgl/2susp.cym(sm,lg)/
xyl-harp-pft(=cel)-strings
Abbreviations (PDF)
Publisher
Boosey & Hawkes
Territory
This work is available from Boosey & Hawkes der ganzen Welt.
Uraufführung
9/20/1975
Kansas City Lyric Theater, Kansas City , Missouri
Jack Eddleman, director and choreographer
Conductor: Russell Patterson
Company: Kansas City Lyric Opera Company
Roles
| | |
| --- | --- |
| COLONEL MAPLESON | Baß Cantante |
| Reporter der TIMES | Lyrischer Tenor |
| Reporter der TRIBUNE | Tenor |
| Reporter der SUN | Bariton |
| Reporter des CLIPPER | Baß |
| WILLEM VAN BLEECKER | Baßbariton |
| CHARLES LAMARTINE | Bariton |
| JONATHAN JINKS | Tenor |
| MRS. GREENBOROUGH (Mrs. Gee) | Alt (möglichst auch Pianistin) |
| AURELIA TRENTONI | Lyrischer Kol. Sopran |
| "Papa" BELLIARTI | Lyrischer Bariton (möglichst auch Geiger) |
| MARY ("Annina") | Sopran |
| MRS. STONTINGTON | Dram. Sopran |
| MISS MERRIAM (taubstumm) | |
| Polizist | Baßbuffo |
| Zollbeamter | Baßbuffo |
| Mrs. Jinks (Jonathans Mutter) | Mezzosopran |
| Bühnenportier (gespielt von dem Zollbeamten) | Baßbuffo |
| Bühnenarbeiter/Bühnenmaler (gespielt von dem Polizisten) | Baßbuffo |
| Kapellmeister, Musiker (aus dem Orchester) | |
| 3 oder 4 Tanzpaare | |
| Bühnenarbeiter, Matrosen, Stauer, 3 Hunde | |
Time and Place
Vereinigte Staaten, Anfang des 20. Jahrhunderts
Synopsis


Jonathan Jinks und seine Freunde Willie und Charlie gehen los, um die Operndiva Aurelia Trentoni zu begrüßen. Charlie (der auf Jinks wegen seines Erfolgs bei Frauen neidisch ist) überredet ihn zu der Wette, ob Jinks es schaffe, Aurelia zu verführen. Jinks und Aurelia fühlen sich sofort zueinander hingezogen. Jinks schämt sich seiner Wette und will sie rückgängig machen – ohne Erfolg. Er gibt Charlie einen Schuldschein. Als Kavalier will er Aurelias Gepäck schneller durch den Zoll befördern und bietet einem geeignet scheinenden Zollinspektor Geld an, wird jedoch überraschend wegen Bestechung eines amerikanischen Beamten verhaftet.

Jinks wird gegen Kaution auf freien Fuß gesetzt und verlobt sich heimlich mit Aurelia. Charlie präsentiert "Papa" Belliarti – Aurelias Onkel und Lehrer – den Schuldschein und behauptet, Jinks sei ein Mitgiftjäger, der gewettet habe, dass er Aurelia heiraten würde. Belliarti verbietet Jinks, Aurelia noch einmal zu sehen. Aurelia kehrt von ihrem triumphalen Debüt in "La Traviata" zurück; sie ist zu aufgewühlt, um zu der Party zu gehen, die zu ihren Ehren stattfindet. Jinks erscheint, erklärt ihr, was vorgefallen ist, und bittet sie um Verzeihung. Ein Polizist will Jinks abholen, der seine Verhandlung versäumt hat. Aurelia spielt ein zweites Mal an dem Abend die sterbende Violetta und erklärt, dass Jinks ihr bei einem Anfall ihrer alten Lungenkrankheit geholfen habe. Alle Hauptpersonen erscheinen und feiern, und alles hat ein gutes Ende.
Moods
dramatisch, heiter, romantisch
Subjects