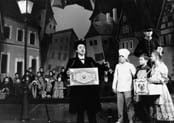 Photo: Gudrun Bublitz
Krása, Hans
Opera for children
Duration: 30 minutes
Music Text
Libretto von Adolf Hoffmeister; deutsche Übersetzung von Frank Harders-Wuthenow und Matthias Harre; englische Übersetzung von Joza Karas; neue englische Fassung von Tony Kushner (tschech., dt., engl.; andere Sprachen auf Nachfrage erhältlich)
Scoring
Children's choir with 10 major roles;
Prague version (1938): 1(=picc).0.2.0-0.1.0.0-perc(3):cyms/BD/SD-pft-strings(1.1.0.1.0 or tutti);
Terezín version (1943): 1(=picc).0.1.0-0.1.0.0-perc(1):BD/SD-pft-gtr-strings(4.0.0.1.1);
On-stage: accordion;
Terezín version also available in an arrangement for one piano, or for two pianos
Abbreviations (PDF)
Publisher
Tempo / Boosey & Hawkes Bote & Bock
Territory
This work is available from Boosey & Hawkes in der ganzen Welt.
Erstaufführung der Fassung
9/23/1943
Terezin
Company: Inmates of the Terezín transit camp
Roles
| | |
| --- | --- |
| Kinderchor mit 10 Hauptrollen: | |
| ANINKA | |
| PEPICEK | |
| BRUNDIBÁR | |
| EISMANN | |
| BÄCKER | |
| MILCHMANN | |
| POLIZIST | |
| SPATZ | |
| KATZE | |
| HUND | |
Synopsis
Aninka und Pepicek gehen auf den Markt, um für ihre kranke Mutter Milch zu holen. Da sie kein Geld haben, wollen sie es dem Leierkastenmann Brundibár gleichtun, dem die Leute für seine Musik Münzen in den Hut werfen. Aninka und Pepicek singen ihr Lieblingslied, aber niemand hört ihnen zu. Als sie versuchen, auf sich aufmerksam zu machen, werden sie als Störenfriede vom Marktplatz verjagt. Schon bricht die Dämmerung herein. Die beiden sind ratlos. Wie sollen sie den bösen Leierkastenmann übertönen mit ihren kleinen Stimmen? Viele Kinder müßten singen, dann könnte es gelingen. Wie auf's Stichwort sind Katze, Hund und Spatz zur Stelle, die ihnen Hilfe versprechen. Am nächsten Morgen trommeln die Tiere alle Kinder der Stadt zusammen und bilden einen großen Chor. Der Plan geht auf: Ihr Lied übertönt den Leierkasten, die Leute auf dem Marktplatz hören zu, und bald ist Pepiceks Mütze voller Geld. Da springt Brundibár hervor, reißt Pepicek die Mütze aus der Hand und versucht, mit dem Geld davonzulaufen. Aber allein gegen alle hat er keine Chance. Die Kinder feiern ihren Sieg und stimmen ein in den Chor der Freundschaft und des Zueinanderstehns.
Subjects
Recommended Recording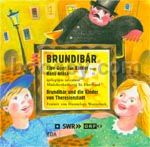 collegium iuvenum / Mädchenkantorei St Eberhard / Friedemann Keck
(P) 1999 Edition Abseits
EDA LC 06957