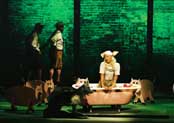 Photo: Alex Irvin
Gruber, HK
Gloria von Jaxtberg
(Gloria - A Pig Tale)
(1992-94)
Two-act music-theatre work for 5 singers and 9 session musicians plus harp
Duration: 90 minutes
Music Text
Libretto by Rudolf Herfurtner. English translation by Amanda Holden (G,E)
Scoring
S,M,T,Bar,B
asax(=cl,bcl).cl(=fl,tsax,ssax)-2tpt(II=flugel hn).tbn.tuba-perc(1):dr kit(PD/hi-hat/SD/2susp.cym)/cyms/bell tree/crot/bamboo pendulum rattle/t.bells/vibraslap/cencerros/marimba/xylorimba/glsp/vib/thunder sheet/wind machine/metal windchimes/Mahler hammer/splash cym/timp-harp-vln
All singers must be amplified, preferably using headset microphones.
Abbreviations (PDF)
Publisher
Boosey & Hawkes
Territory
This work is available from Boosey & Hawkes in der ganzen Welt.
Uraufführung
11/17/1994
Lawrence Batley Th., Huddersfield
Helmut Danninger, Regisseur
Conductor: Stefan Asbury
Company: Opera North
Roles
| | |
| --- | --- |
| Gloria | Sopran |
| Solo-Schwein und andere Rollen | Mezzosopran |
| Gerhard und andere Rollen | Tenor |
| Bauer und andere Rollen | Bariton |
| Rodrigo und andere Rollen | Baß |
Time and Place
Ein Bauernhof in den Bergen
Synopsis
 
Ernste Themen im heiteren Gewand. Eine auf dem Bauernhof angesiedelte politische Parabel voller Satire und perkussiver Akzente. Orwell lässt grüßen.
Gloria ist von Anfang an etwas Besonderes. Sie hat goldene Naturlocken und weiß, daß sie das schönste Schwein in den Bergen ist. Leider ist sie auch das traurigste, denn die Schweine in ihrem Stall sind neidisch und gehässig und tolerieren nichts, was außerhalb der Norm liegt. Ihr Cousin Gerhard und seine Schweinemannschaft machen ihr das im 'Edelschweinmarsch' auch unmißverständlich klar: Das weiße deutsche Edelschwein ist blond und hat kurze Haare ohne Firlefanz. Alles andere ist abartig, absolut abartig – fast so schlimm, wie ein Wildschwein zu sein. Gloria, dieser reizenden Schweinedame, bleiben nur ihre Hoffnungen und Sehnsüchte.
Aber Sehnsucht macht blind, und so bemerkt Gloria nicht, als der Prinz endlich kommt, daß er eigentlich der Schlachter ist. Umsonst scheinen die Warnungen der armen kleinen Würstchen an der Wand, die ihr ein Lied von enttäuschten Hoffnungen singen. Das Ganze droht im Wursttopf zu enden – bis die Liebe daherkommt, in Gestalt von Rodrigo, dem wilden Helden. Er kennt sich aus in der Welt, er kennt auch den Fleischer und rettet die wundervolle Schweinedame. Am Ende kommt alles genau so, wie die Ochsen es vorausgesagt haben.
Subjects