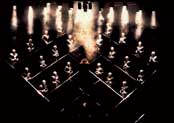 Photo: Eric Thorburn, The Glasgow Picture Library
Stravinsky, Igor
Oedipus Rex
(1926-27, rev.1948)
Opera-oratorio after Sophocles
Duration: 53 minutes
Music Text
Libretto by Cocteau based on Sophocles (L-F,L-E,L-G)
Scoring
M,2T,Bar,3(or 2)B,narrator; male chorus
3(III=picc).2.corA.3(III=Ebcl).2.dbn-4.4.3.1-timp-perc(2):tamb/
t.mil/BD/cyms-harp-pft-strings
Abbreviations (PDF)
World Premiere
5/30/1927
Théâtre Sarah-Bernhardt, Paris
Conductor: Igor Stravinsky
Company: Russian Ballet Orchestra
World stage premiere
2/23/1928
Staatsoper, Vienna
Lothar Wallerstein, director
Conductor: Franz Schalk
Company: Vienna Staatsoper
Roles
| | |
| --- | --- |
| OEDIPUS, King of Thebes | Tenor |
| JOCASTA, his wife | Mezzo Soprano |
| CREON, Jocasta's brother | Bass Baritone |
| TIRESIAS, a soothsayer | Bass |
| THE SHEPHERD | Tenor |
| THE MESSENGER | Bass Baritone |
| SPEAKER | spoken role |
| Chorus | Tenors, Basses |
Time and Place
Ancient Greece
Synopsis
A speaker appears, to narrate each episode of the story before it happens. He warns us we will watch Oedipus falling into a trap waiting for him since his birth. The city of Thebes is afflicted by plague. In despair, the inhabitants turn to their king, Oedipus, who promises help. His ambitious brother-in-law, Creon, has learnt from the oracle that the plague has been sent because the murderer of the previous king, Laius, is still living in the city. Oedipus vows to find this man. He consults with the blind Tiresias who unwillingly tells him: 'The murderer of the king is a king'. Jocasta, the widow of Laius and now the wife of Oedipus, tells her husband that Laius met his death twelve years before at a crossroads. Oedipus realises he himself is the murderer. News arrives of the death of Oedipus's supposed father, Polybus, and the king discovers that he was adopted after being found abandoned as a baby on Mount Cithaeron. Hearing this, Jocasta realises that Oedipus, her husband and the murderer of her former husband, is their long-lost son. Off-stage, Jocasta kills herself and Oedipus, taking her pin of gold, puts out his own eyes. Blinded, he reappears once more in front of the citizens, before turning away and leaving Thebes forever.
Repertoire Note
Stravinsky called Oedipus Rex an "opera-oratorio" and instructed that it be staged with minimal movement; the principal singers are to wear masks. Crucial to the work's aesthetic was the decision to set a Latin text - a choice, Stravinsky wrote, with "the great advantage of giving me a medium not dead but turned to stone and so monumentalized as to have become immune from all risk of vulgarization." The impersonal grandeur of Stravinsky's retelling is signalled by the opening chorus. At the same time, Oedipus' downfall is vividly delineated by the gradual defoliation of his vocal line. The musical trajectory - a throbbing engine of fate - is as undeflectable as the drama. In spite of Stravinsky's principles and pronouncements - that music "is powerless to express anything at all" - the opera culminates in catharsis. Sophocles' great tale of submission to fate resonates with Stravinsky's religious sensibility: of submission to God.
Reproduction Rights
This programme note can be reproduced free of charge in concert programmes with credit to Boosey & Hawkes/Joseph Horowitz.
Subjects
Literary, Mythology, Relationships, Society
Recommended Recording
Vinson Cole, Anne Sofie von Otter, Simon Estes, Hans Sotin, Nicolai Gedda, Swedish Radio Chorus, Ericson Chamber Choir, Orphei Drängar, Swedish Radio Symphony Orchestra, Esa-Pekka Salonen
Sony SK48057