Photo: Donald Cooper
Stravinsky, Igor
Mavra
(1921-22, rev.1947)
Opera buffa in one act
Duration: 25 minutes
Music Text
Libretto by Boris Kochno after Pushkin's story `The Little House in Kolomna' (R,E,F,G,I,S)
Scoring
S,M,A,T;
3(III=picc).2.corA.2.Ebcl.2-4.4.3.1-timp-strings(2vln.1vla.full complement of vlc and db)
Version arranged for chamber ensemble by Paul Phillips:
fl(=picc).Ebcl(=Bbcl & Acl).Acl(=bcl)-pft-vln.db
Version arranged for chamber ensemble by Winfried Radeke:
cl.bn-hn-pft-db
Abbreviations (PDF)
World Premiere
6/3/1922
Paris
Conductor: Gregor Fitelberg
Company: Paris Opera
Roles
| | |
| --- | --- |
| PARASHA | Soprano |
| THE NEIGHBOUR | Mezzo Soprano |
| THE MOTHER | Contralto |
| THE HUSSAR | Tenor |
Synopsis
Parasha, a young girl, is busy at the window of her mother's house in the suburbs of St Petersburg, when her suitor Vassily, a rakish hussar, arrives in the street outside, burning with importunate desire. Parasha agrees to meet him the next day. Parasha's mother enters the room, complaining that they no longer have a reliable maid to look after them. She sends Parasha out to see if she can find someone cheap. Parasha soon returns with a new 'maid' she has engaged... in fact it is the hussar dressed in women's clothes. He introduces himself as 'Mavra' and promises to serve well and for little money. Once on their own, 'Mavra' and Parasha fall into one another's arms. All progresses well with this affair until Parasha's mother unexpectedly walks into the kitchen and finds 'Mavra' shaving. When she faints from shock and fear, 'Mavra'-Vassily seizes the moment, leaps out of the window and runs away, leaving the unfortunate Parasha behind.
Repertoire Note
This intimate opera buffa for Diaghilev takes place in a middle class home situated in a small Russian town, ca. 1840. Parasha, in love with Basil, contrives to have Basil engaged as the family cook. He flees through a window when discovered shaving his beard. Stravinsky conceived Mavra as an homage to Pushkin, Glinka, and Tchaikovsky, all of whom elegantly "united the most characteristically Russian elements with the spiritual riches of the West." Including two arias, a duet, and a quartet, the score invokes Russo-Italian operatic conventions. This affectionate impulse does not, however, preclude a mordant satire on bourgeois manners. The love duet, with its fervent endearments and symphonic ejaculations, is a hilarious parody of the Romeo-and-Juliet genre.
Reproduction Rights
This programme note can be reproduced free of charge in concert programmes with credit to Boosey & Hawkes/Joseph Horowitz.
Subjects
Literary, Relationships
Recommended Recording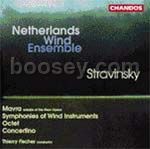 Tatiana Kravtsova, Olga Markova-Mikhailenko, Olga Korzhenskaya, Alexei Martynov, Netherlands Wind Ensemble, Thierry Fischer
Chandos 9488
External Links