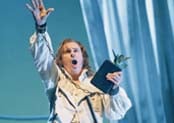 Photo: Bill Cooper
Horne, David
Friend of the People
(1998-99)
Opera in 3 Acts
Duration: 150 minutes
Music Text
Libretto by Robert Maclennan on the life of Thomas Muir (E)
Scoring
2S,A,4T,4Bar,BBar,B,Tr
2(I=picc,II=picc,afl).2(II=corA).2(II=bcl).1.dbn-2.2.2.1-timp.
perc(1):marimba/vib/crot/t.bells/3susp.cym(sm,med,lg)/BD/tam-t/whip/
5tpl.bl/med.anvil-harp-cel-strings
Abbreviations (PDF)
Publisher
Boosey & Hawkes
Territory
This work is available from Boosey & Hawkes der ganzen Welt.
Uraufführung
11/6/1999
Theatre Royal, Glasgow
Christopher Alden, Regisseur
Conductor: Richard Farnes
Company: Scottish Opera
Roles
| | |
| --- | --- |
| THOMAS MUIR | Bariton |
| JOHN JAMES | Knabensopran |
| ROBERT FORSYTHE / CAPTAIN FONNEGRA | Tenor |
| JOHN MILLAR JUN. / 1. BESATZUNGSMITGLIED / CAMILLUS | Tenor |
| PROF. MILLAR / 2. BESATZUNGSMITGLIED | Baßbariton |
| OBERST DALRYMPLE / CAPTAIN DORR | Baß |
| PFARRER JAMES LAPSLIE / JAMES GRANT / DON PEDRO | Tenor |
| ANNIE FISHER | Mezzosopran |
| ANNAS BARBAULD / CERES | Sopran |
| MARGARET MUIR / MARIANNE ('La France') | Alt |
| TALLEYRAND / VORSITZENDER DES TRIBUNALS | Baßbariton |
| ROBERT DUNDAS / LEUTNANT PAGE | Bariton |
| LORD BRAXFIELD / CAPTAIN CAMPBELL/ GRAF VON SANTA CLARA | Baß |
| CHARLES GREY / CICERO | Tenor |
Time and Place
Paris, London und Glasgow, Ende des 18. Jahrhunderts
Synopsis
Thomas Muir erzählt einem kleinen Jungen seine Geschichte. Vor sieben Jahren setzen sich der Anwalt Muir und seine Freunde gegen Pitt für eine Parlamentsreform ein. Muir reist nach London, um Kontakte zu den liberalen Whigs zu schließen, die unter dem Motto 'Friends of the People' Vereine gründen, um für Reformen zu werben. In Muirs Garten bewirtet seine Mutter den Geistlichen James Lapslie. Thomas berichtet ihnen von seinem Erfolg bei der Suche nach Mitgliedern und tanzt mit dem jungen Dienstmädchen Annie Fisher, die seine Ausgelassenheit für Zuneigung hält.
In Glasgow treffen sich die 'Friends of the People' und bringen eine Petition beim Parlament ein. Lapslie, der das Treffen beobachtet, steckt sein Hilfegesuch an die irischen Republikaner wieder ein. Annie erklärt Muir ihre Liebe, muß jedoch erfahren, daß seine Hauptleidenschaft den politischen Reformen gilt. In Edinburgh bieten Lapslie und Annie Pitts Gefolgsmann Dundas ihre Dienste an. Muir wird geächtet, verliert seinen Anwaltsstatus und wird verhaftet. Lapslie und Annie legen vor Gericht Meineide gegen ihn ab und er wird zu 14 Jahren Verbannung verurteilt. Eine reuige Annie und Muirs Mutter kommen zu seinem Abschied an die Leith Docks.
Die erste von vielen Reisen, die ihn als politisch Verfolgten quer durch die ganze Welt treiben, führt ihn nach Australien, den Ort seiner Verbannung. Von Verletzungen und psychischer Folter gezeichnet, kommt er schließlich nach Frankreich, wo man ihn als Helden empfängt und ihm die Staatsbürgerschaft anbietet. Nachdem er seine Geschichte erzählt hat, lädt der französische Außenminister Muir ein, mit ihm das Feuerwerk zum Tag des Sturms auf die Bastille anzuschauen, doch kann er sich vor Schwäche kaum rühren. Seine Lebenskräfte schwinden; verzweifelt muß er sich eingestehen, daß er sein Ziel nicht erfüllt hat. Sein einziger Trost ist, daß der Junge seinem Beispiel folgen könne.
Moods
dramatisch, poetisch
Subjects