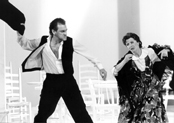 Photo: Fritz Stockmeier
Mascagni, Pietro
Cavalleria rusticana
(Sizilianische Bauernehre)
(1889)
Opera in one act
Duration: 75 minutes
Music Text
Libretto von Giovanni Targioni-Tozzetti und Guido Menasci nach dem gleichnamigen Volksstück von Giovanni Verga; deutsch von Oskar Berggruen (ital., dt.)
Scoring
S,M,A,T,Bar,2speaking roles; mixed chorus;
2.2picc.2.2.2-4.2.3.1-timp.perc(3):BD/SD/cym/tam-t-2harp-strings;
off-stage: harp-org-perc:plate bells
(This work is published and distributed for stage performances by Boosey & Hawkes / Bote & Bock in Germany, Austria, Hungary, the Czech Republic, Slovakia, Slovenia, Croatia, Bosnia and Herzegovina, Serbia, Montenegro and in German speaking Switzerland.)
Abbreviations (PDF)
Publisher
Boosey & Hawkes / Bote & Bock
Territory
This work is available from Boosey & Hawkes in Deutschland, Österreich, Ungarn, Tschechien, der Slowakei, Slowenien, Kroatien, Bosnien-Herzegowina und der deutschsprachigen Schweiz.
Availability
Uraufführung
5/17/1890
Teatro Costanzi, Roma
Conductor: Leopoldo Mugnone
Company: Gemma Bellincioni (Santuzza) / Roberto Stagno (Turridu) and others
Roles
| | |
| --- | --- |
| SANTUZZA, eine junge Bäuerin | jungendlich-dramatischer Sopran |
| TURRIDU, ein junger Bauer | dramatischer Tenor |
| LUCIA, seine Mutter | Alt |
| ALFIO, ein Fuhrmann | Heldenbariton |
| LOLA, seine Frau | Mezzosopran |
| Zwei Frauen | Sprechrollen |
| Landleute, Kinder | |
Time and Place
Ein Dorf in Sizilien an einem Ostersonntag Ende des 19. Jahrhunderts
Synopsis
Turiddu, ein junger sizilianischer Bauer, hatte sich vor seiner Einberufung zum Militär mit Lola verlobt. Als er ein Jahr später vom Dienst zurückkehrt, ist sie die Frau des wohlhabenden Alfio geworden. Turiddu kommt darüber hinweg, denn er findet die Liebe Santuzzas. Doch schon wenig später verdreht ihm Lola erneut den Kopf. Turiddu läßt sich zu einer Affäre mit ihr hinreißen und macht auch in der Öffentlichkeit keinen Hehl daraus. Als Santuzza ihn darüber zur Rede stellen will, stößt er sie brutal von sich. Santuzza, zutiefst verletzt, offenbart dem ahnungslosen Alfio die Schande. Die sizilianische Bauernehre zwingt Alfio, seinen Nebenbuhler zum Zweikampf aufzufordern. Turiddu, voll düsterer Vorahnungen, nimmt Abschied von seiner Mutter. Im Duell mit Alfio findet er den Tod.
Moods
dramatisch, tragisch
Subjects